Hong Kong Air Cargo has become a full member of the International Air Transport Association.
The carrier passed IATA's Operational Safety Audit in September 2018, showing its compliance with internationally recognized standards designed to assess the operational management and control systems of an airline.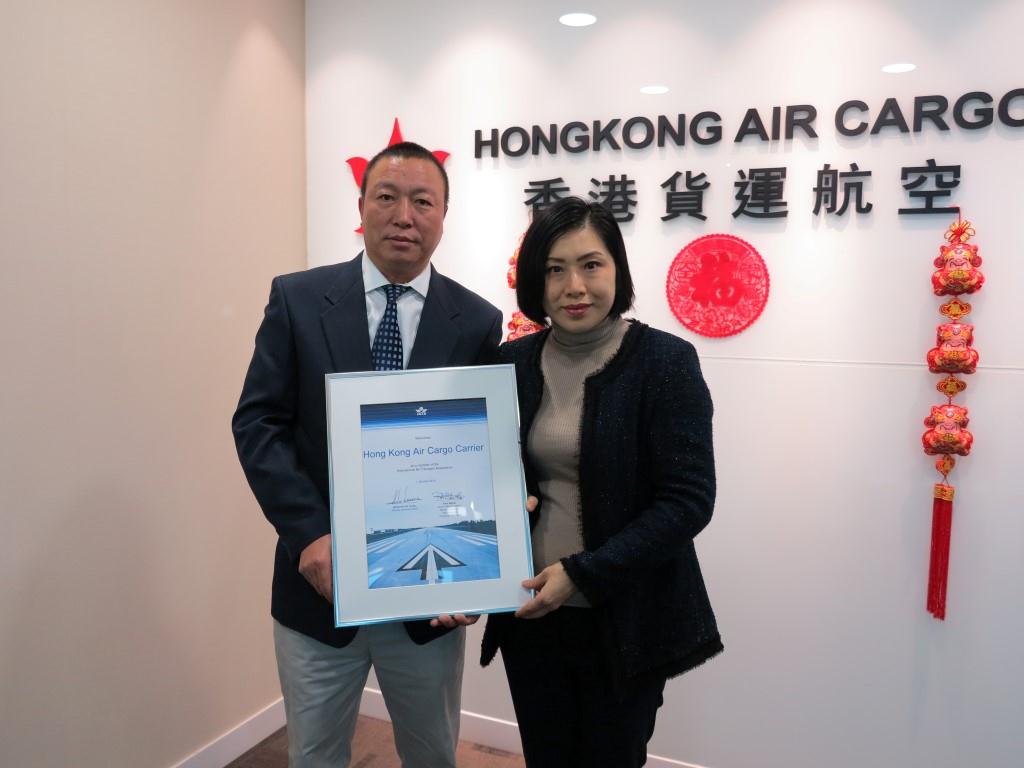 "The completion of our IOSA registration and the receipt of our full IATA membership stands to further confirm Hong Kong Air Cargo's commitment to the highest standards of operational safety," said Jevey Zhang [left in photo], president of Hong Kong Air Cargo. "The recognition of the IATA membership is a proud moment for all of our staff and proves that hard work and determination pays off. By meeting the worldwide practices and standards set out by IATA, we confidently aim to deliver a truly world-class service. We fully support the continuous updating of standards to reflect regulatory revisions and the evolution of best practices within the worldwide airline industry under the continuing stewardship of IATA. Hong Kong Air Cargo will continue to focus on developing its network with an aim to build Hong Kong as an air cargo hub."
IATA represents almost 300 airlines around the world and accounts for 82% of total air traffic. The association helps formulate industry policy on critical aviation issues.
"We are delighted to welcome Hong Kong Air Cargo as our newest IATA member," said Yvonne Ho [right in photo], general manager of Hong Kong and Macau at IATA. "Hong Kong Air Cargo have proved that they are indeed a world player in this very tough market, they set the bar high and continue to excel in all areas of safety and best practice."
Hong Kong Air Cargo is a subsidiary of Hong Kong Airlines and was launched in 2017. The cargo carrier operates a fleet of five Airbus A330-200Fs to Almaty, Bangkok, Dhaka, Hangzhou, Hanoi, Ho Chi Minh City, Istanbul, Shanghai, Singapore, Taipei and Zhengzhou, and acts as the general sales agent of Hong Kong Airlines' cargo business.