Worldwide Flight Services and Swiss WorldCargo have opened New York's first pharma facility which is compliant with Good Distribution Practice requirements.
According to WFS, the certification of its Building 66 at JFK Airport confirms compliance with World Health Organization, International Air Transport Association and Parenteral Drug Association quality standards for handling pharmaceutical and life science products, as well as with service level agreements signed with individual airline customers in New York.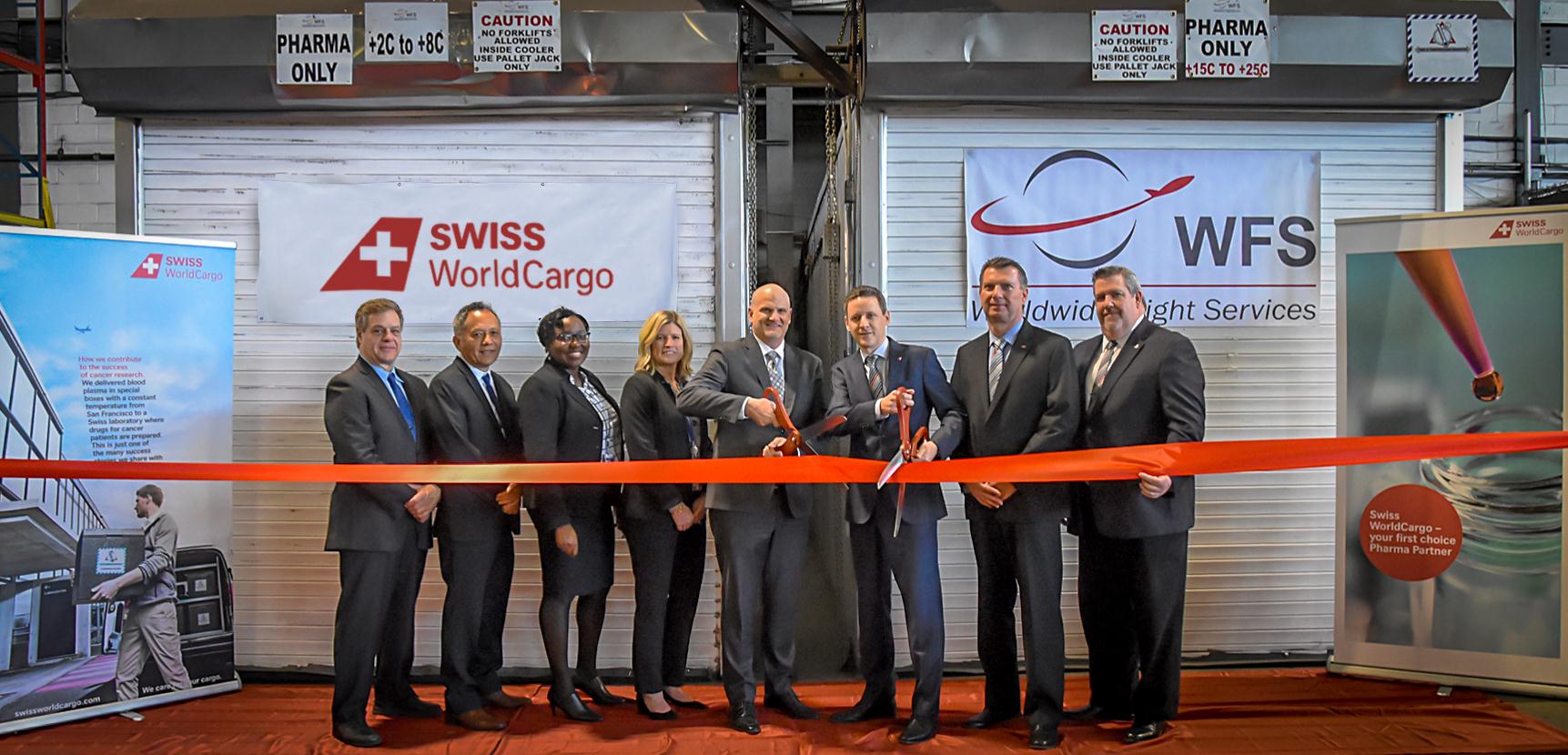 "As the leading cargo handler at JFK, we are proud to be the first airline handling facility to become GDP certified, which is in response to growing customer demand for high-quality, standardized pharma handling," said Michael Simpson [fourth from right in photo], executive vice president of the Americas at WFS. "We will continue to expand our network of certified facilities, adding to our current list of JFK and Miami in the Americas as well as multiple locations in Europe."
To meet the GDP requirements, WFS developed a pharmaceutical handling quality manual and quality management system, appointed a special products manager, provided a team of experienced and trained personnel, and invested in a new cooler for the 1,000-square-foot facility at JFK.
"We are very excited that New York's first GDP-compliant airline facility is located at Swiss WorldCargo's warehouse," said Michael Ganz [third from right in photo], head of Northeast/Midwest USA and Canada at Swiss WorldCargo. "This latest addition of GDP-compliant facilities allows us to offer additional quality corridors to our pharma and healthcare customers. The certification of our boutique-like single-airline facility in New York further strengthens our position as a global quality leader."
Swiss WorldCargo offers belly capacity on twice-daily flights between Zurich and JFK, and a daily flight between Geneva and JFK, all operated with Airbus A330-300s. The airline obtained IATA's Center of Excellence for Independent Validators in Pharmaceutical Logistics certification in 2018.
WFS has also signed a 15-year lease on a new 346,000-square-foot cargo terminal at JFK, the first phase of the Port Authority of New York and New Jersey's Vision Plan. The facility, which is scheduled to open in 2020/21, will have a throughput capacity of over 300,000 tonnes a year and will house dedicated facilities for temperature-controlled pharmaceutical products and perishables.