TIACA: LOWER OIL PRICES LIKELY A MIXED BLESSING
February 23, 2015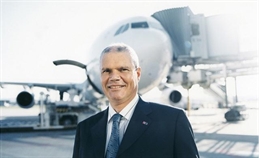 Lower oil prices are likely to prove a mixed blessing for the global air cargo industry, with the benefits of cheaper fuel costs generally being outweighed by the negative impact of other repercussions.
That was the view expressed by Oliver Evans, chairman of TIACA (The International Air Cargo Association), during a press briefing in London, held late last month to provide an update on both the organization's own activities – including a recent marked increase in Asian members – and current key general industry issues.
"The plus side of the decline in oil prices (for air cargo) is very clear – one of the key cost elements of our industry is going down and that is good news for operators," said Evans.
However, he continued, that trend also had "all kinds of implications in terms of opportunities and threats for different business models." He pointed out that fuel surcharges had become a key element of earnings for many air cargo service providers.
"The impact of cheaper fuel will vary from company to company and between groups and areas. Different companies will react differently to that challenge and other players will have to decide how they respond to that," said Evans.
He also played down the suggestion that cheaper fuel might improve the competiveness of air cargo in relation to sea or road freight transport. "Those other modes are also users of fuel and therefore their own costs will be declining. So the relative position of air cargo may not be affected."
Meanwhile, the decline in global commodity prices was having a negative effect on the economies/spending power of many individual countries and their resulting requirement for air cargo services, said Evans. "On balance, lower oil prices are having a negative impact on the global economy and therefore on the air cargo industry," he said.
Also discussed at the TIACA briefing was the recent news that some airlines, notably Middle East carrier Emirates SkyCargo, are planning to introduce an all-inclusive freight rate which does away with fuel and other surcharges.
Responding to a question about the merits of that development, Doug Brittin, TIACA's secretary general, pointed out that the association tended not to get too deeply involved with air cargo industry rate structures and economics. However, he suggested, "anything in the interests of transparency and ease of use for the shipping community (shippers and forwarders) is better."
Brittin also provided an update on TIACA's own latest developments, including a continuing push to attract more members in countries outside its historically strong base in North America and Europe.
"The last half of 2014 was very positive in terms of expanding the membership and we expect to continue that in 2015, 2016 and beyond. It is certainly one of our key goals," he commented.
He said TIACA had been particularly successful in attracting more members from the forwarding sector, "with a good percentage of those being in Asia and some in the Middle East." Part of that increased Asian interest, he suggested, was down to TIACA's 2014 Air Cargo Forum being held in Seoul.
Evans added that another factor helping to boost TIACA's presence worldwide was a recent broadening of the diversity of its board of directors. One of the reasons for that move, he explained, was that the additional board members could "reach out" to the communities they were doing business with.
"We are already seeing a lot of progress on that front through the invitations which are being extended to TIACA to participate in more regionally or locally focussed events and we believe that will result in a much deeper penetration of regional and local markets," said Evans.
By Phil Hastings
Europe Correspondent | London