IAG CARGO TOUTS GROWTH IN CHINA, HONG KONG
February 23, 2015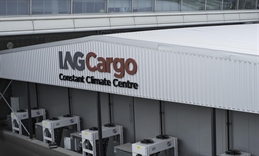 IAG Cargo has been experiencing strong growth out of Hong Kong and China over the past year, particularly across its range of specialized premium offerings.
"The e-commerce industry seems to be booming at the moment, and we're certainly seeing the mix in cargo through London and Madrid shifting more towards the smaller consignments," says Daniel Johnson, manager of global products at IAG Cargo. "So whilst our tonnage is growing, we are seeing the consignment count growing far quicker than the overall volume, and the average piece weight is also dropping. We see that being driven by e-commerce."
Johnson says that a lot of the electronic items coming out of Hong Kong and China are going to Latin America. IAG's customers have the option of direct British Airways flights from London Heathrow to Buenos Aires, Rio de Janeiro and São Paulo, or they can use IAG's "Airbridge" service from Heathrow to its Madrid hub with 19 widebody rotations per week, and then connect to a more extensive Latin American network on Iberia aircraft.
Elsewhere in Asia, IAG has seen solid performance of Constant Climate, its temperature-controlled product which can maintain stable temperatures from -20 to -25 degrees Celsius.
"Certainly out of India, the growth of Constant Climate has been huge. There's been a 60% growth in 2014 versus the previous year," says Johnson. "A lot of manufacturing of pharmaceuticals is now in India because of the growth of generic drugs, and the manufacturers are beginning to influence freight forwarders to say that they want their products to be moved with IAG Cargo, because we've invested in the right infrastructure to give them the confidence that when they start moving these high-value products from India to wherever it may be, their potency and integrity are upheld throughout the whole journey."
Johnson says that Japan has also been very strong for Constant Climate, and that he sees small and medium enterprises as really benefitting from this dedicated service.
IAG Cargo does not currently have its own freighter aircraft. In November 2011, it took delivery of the first of three Boeing 747-8 Freighters, which Atlas Air was to operate for the British Airways World Cargo arm on a wet-lease basis. IAG Cargo terminated that agreement in April 2014 and returned the three planes. Instead, under a separate agreement, Qatar Airways Cargo now operates five Boeing 777 Freighters a week between Hong Kong and London on behalf of IAG Cargo.
"The Qatar freighter agreement cut significant costs from IAG Cargo," says Johnson. "It also addresses overcapacity and has improved our bottom-line contribution."
The relationship between the two airline companies, both of which are in the oneworld alliance, grew even closer at the end of January, when the IAG Group announced that it had sold a 9.99% stake to Qatar Airways.
"The agreement allows us to serve new and existing markets," says Johnson. "We'll also continue to use our bellyhold network to provide our customers with the capacity they need on key routes."
Qatar Airways, Emirates and Etihad Airways are three of the world's fastest growing airlines. All three operate large fleets of widebody passenger and freighter aircraft, and pose a significant challenge to the industry. Having closer ties with one of them will help IAG compete against the expanding capacity coming out of the region.
Another difficulty was the issue of overcapacity in Europe – there are over 6,000 flights a week within Europe, according to Johnson. To address that, IAG launched its EuroConnector service late last year.
"We came up with two simple propositions that were both time-definite: EuroConnector 24 and EuroConnector 48. From the point of origin anywhere in the world, we guarantee arrival in Europe within 24 hours using our premium Prioritise express product or within 48 hours using our general cargo product, Perform, with a connection in London Heathrow, London Gatwick, Barcelona or Madrid. It's been fantastic," says Johnson. "Customers have given us feedback that it helps with managing their supply chains more effectively. Operationally, the performance has been strong because we've put in a number of procedures at London Heathrow to ensure that we have additional monitoring in place so that we achieve the 24-hour or 48-hour target."
Looking ahead, Johnson says that 2015 will be about taking advantage of new capabilities and infrastructural investments at Heathrow, such as the improved premium facility and dedicated Constant Climate buildings. He also says IAG Cargo will be focusing on promoting its premium products in new markets such as Kuala Lumpur, which British Airways will start serving with a Boeing 777-200ER from May 27.
Johnson predicts that the coming year will be positive overall.
"For Asia, we had a very strong end to 2014 for premium products. For 2015, January has also started strong, with a good premium mix. Whilst we push to improve our premium mix, the Asian market will play a big part in that," he says. "So far, the early signals suggest that demand out of Hong Kong, China and India hasn't really dropped off as much as it has in previous years."
Basic perishable items are also expected to do well. "Interestingly, where we are seeing some growth to the East is seafood from the UK and Ireland – langoustines, crabs, and razor clams to China, for example," says Johnson. "That's using our Prioritise product, which means a flight down to Heathrow in the morning and then straight out to Shanghai and Beijing in the afternoon."
Johnson says he's not too worried about the months ahead.
"I think, in a nutshell, as long as we continue to invest in the right technologies, the right infrastructure and the right aircraft to give customers the confidence that we've got the right capabilities to handle their premium goods, then we'll always be in a strong position," he says.
He also says that the world is coming off the back of a recession, so it will take time for people to start spending again, and that he and his team have to be careful with investments in product development and the way they are priced in the market.
"It's a tough job," he says. "But it's a fun one."
By Jeffrey Lee
Staff Writer | Hong Kong