RISING DEMAND, SINKING OIL PROMPT FREIGHTERS' RETURN
February 23, 2015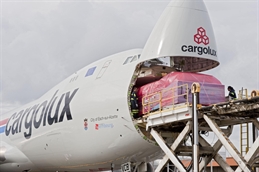 According to reports from Taiwan, China Airlines management is mulling over the viability of bringing three parked B747 Freighters back into action. Meanwhile, ACMI leasing firm Air Atlanta has been studying the possibility of adding more 747 freighter aircraft to its line-up.
In recent months the outlook for freighters – especially older widebody types like the 747-400 and the MD-11 – has changed drastically. The planes have morphed from endangered species to attractive alternatives to more modern, costly types.
Over the past 18 months, leading Asian carriers like China Airlines, Cathay Pacific, Air China, Singapore Airlines and Korean Air had shrunk their maindeck capacity drastically by taking 747 Freighters out of service. Faced with falling yields as a result of overcapacity and painful operating costs due to soaring fuel prices, they found themselves forced to retire MD-11 and 747-400 Freighters, especially the 747-400BCF variant.
"If you operated a 747-400 freighter a year ago, it was tough," confirmed Baldvin Mar Hermannsson, vice president of sales and marketing of Air Atlanta.
Today, the outlook for the older planes is much brighter, even on the passenger side. "We are seeing a big pick-up in demand for aircraft we thought we would scrap," remarked Aengus Kelly, chief executive of aircraft leasing giant AerCap.
The cataclysmic slump of the oil price has been a huge factor in this. At US$110 a barrel, older widebody freighters were bleeding red ink on most routes where they were deployed. With the oil price south of the US$50 mark, these aircraft suddenly are vastly cheaper to operate then the more fuel-efficient but much more expensive B777 and B747-8 cargo planes. By one estimate, operating a 747-8F may be as much as 17% more expensive per block hour than a 747-400F.
A second reason for the revived interest in some older freighters lies in the improved market conditions compared to 12 months ago. Statistics from the International Air Transport Association show a 4.5% rise in air cargo demand for 2014, driven by the Asia-Pacific and Middle Eastern regions. The Association of Asia Pacific Airlines has reported 5.4% growth in cargo traffic for its members in 2014, well in excess of the 4.1% growth in capacity over the period. Moreover, the momentum strengthened visibly in the second half of the past year, demand going up 6%.
In addition to more optimism about the economic outlook, air cargo executives see an incipient shift of cargo from ocean to air in the transpacific trade lane owing to the ongoing problems at US West Coast ports. By the beginning of February, 20 container vessels were stuck at the port complex of Long Beach and Los Angeles, and average wait times were 7-14 days at anchor and another 6-8 days for loading and unloading.
Despite the improved conditions for freighters, Hermannsson questioned the wisdom of rushing retired freighters back into action. "You might see some coming back, but I would warn against them coming back too quickly," he said. "There is still an abundance of capacity."
James Woodrow, director of cargo at Cathay Pacific, also has misgivings about a flock of 747 and MD-11 cargo planes returning to the market. If too much capacity were to come back, that would not be good for the demand-supply balance, he warned.
Hermannsson added that changes in the price of fuel might well change the picture. "Yes, fuel is good at the moment, but what happens in a year's time?" he reflected. It would require a commitment of at least 18-24 months to reactivate a parked freighter, he pointed out.
Carriers like Cathay, Nippon Cargo Airlines and Cargolux have replaced many of their 747-400 cargo planes with 747-8Fs. They are not going to sideline those while 747-400Fs are cheaper to operate. Most likely, the drop in the oil price will mark a painful blip in their use of the 747-8.
Still, there are question marks over the 747-8 in the longer timeframe. Despite the high oil price that prevailed for most of the year, 2014 brought Boeing a paltry two orders for they type: one from AirBridge and one from Cargolux, two carriers that have made the 747-8 the main tenet of their fleets. This has prompted questions how many routes can sustain a 150-ton freighter in two directions. This dearth of orders, coupled with an even less sanguine demand on the passenger side as well as indications that Airbus might scrap its A380 programme, has cast doubts over the future of very large aircraft and prompted suggestions that Boeing may not stick with the 747-8 for long. One theory is that the production line will remain in place until the order for the replacement for Air Force One has been received but be shut down not much later.
By Ian Putzger
Air Freight Correspondent | Toronto