US WEST COAST CONGESTION EASES
March 24, 2015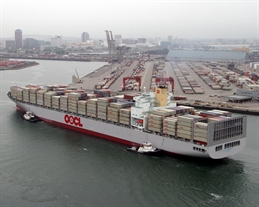 Port congestion problems on the US West Coast, mainly concerning Asia in- and outbound cargo, are improving, particularly since the Pacific Maritime Association (PMA) and the International Longshore & Warehouse Union (ILWU) reached a tentative contract agreement on the US West Coast waterfront dispute.
An announcement about the settlement was made officially on the evening of February 20. The contract will cover all 29 ports on the West Coast.
Most port officials believe it could take up two months to clear the backlog of cargo that has built over the nine-month labour dispute, but already improvements in cargo movement are showing through.
Two weeks after the agreement announcement, the Port of Oakland, one of the ports affected by the labour problems, has confirmed that improvements in ship to shore movements are particularly visible.
In the first operational update since the agreement, Oakland has confirmed there have been signs of significant reductions in the number of vessel backups, and that there were improved transit times, decongested terminals and better terminal productivity.
Oakland officials believe the port's congestion problems could clear within two months, but warned there is still a long way to yet to get things back to normal.
Continuing on the positive side, and at all ports on the US West Coast affected by the congestion problems, night work and weekend work resumption has seen an improved cargo flow for the cargo pile up effecting Asia customers shipping goods over the West Coast.
By the second week there were only five containerships, all carrying or waiting to load Asia cargo, awaiting berths outside Oakland, whereas three weeks earlier that number was as high as 20 vessels.
Shipping lines which previously ended their Asia/US West coast port rotations in Los Angeles before returning to the Far East in order to get back onto schedule are now rescheduling their voyages to include Oakland calls.
The Grand Alliance Japan Express (JPX) service, which has operated with up to seven vessels since January because of USWC port disruptions, will return to a five vessel operation by late April or early May. Coinciding with this move, the JPX Oakland call will be resumed as the port disruption scenario continues to show through in a positive manor for shipping lines.
The first resumed call scheduled for Oakland on the JPX is planned for May 2 by the 3,398 teu Hanjin Constantza. From May, the JPX will once again offer direct coverage of Kobe, Nagoya, Tokyo, Sendai, Los Angeles, Oakland, Tokyo, Nagoya, Kobe, with a return to the pre-January service structure of five vessels in the 2,600/5,200 teu capacity frame.
By Paul Richardson
Sea Freight Correspondent | London