MOL ORDERS WORLD'S LARGEST CONTAINERSHIPS
March 25, 2015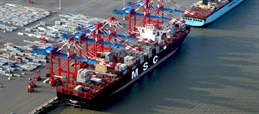 Six giant 20,000+ teu vessels have been – or are in the process of being – ordered from Samsung Heavy Industries and Imabari Shipbuilding for delivery in 2017.
The Samsung-ordered vessels each carry a price tag of US$155 million.
Four of the 20,150 teu vessels have been ordered by MOL; the other two by Shoei Kisen Kaisha for long term charter to MOL. The MOL-owned vessels will be constructed at Samsung, while the other two chartered vessels at Imabari.
The vessels are the largest containerships ever built, and are some 150 teu larger in capacity terms over the existing largest vessel, the 19,244 teu MSC Oscar.
Technical dimensions include a length of 400 metres, an extreme breadth of 58.5 metres, an operational draft of 14.5 metres and a loaded draft of 16 metres.
All six are destined for the Asia/North Europe trade, but as a senior shipping executive points out, "everyone knows six vessels do not make up an Asia/North Europe string, so obviously there are more to follow."
The big question now being asked is who will follow: will it be APL, HMM, OOCL, NYK or Hapag-Lloyd, or another line outside the G6?
The most important factor is that the G6 Alliance is a relatively short-term agreement that will only last until 2016. Thus, the six member lines may not necessarily be in the alliance when the first of the 20,000+ teu newbuildings are delivered, or the G6 Alliance setup might be a completely different alliance.
"Sure, the lines could easily agree to extend the present two-year time frame, but what is there now is simply an extension of existing slot and vessel sharing deals already in place under the old style Grand Alliance and New World Alliance," said one senior shipping executive. "So for any of the other G6 lines to commit towards ordering 20,000+ teu vessels could point to a very important aspect."
The executive notes that such an order may not only relate to market expansion, but to the fact that the G6 may have a lot longer to go than one more year. "An extension of the two-year timeframe could be in the cards if one or more of the other five G6 lines pops up with another 20,000+ teu newbuilding order," he says.
Interestingly, from a design aspect, the main engines of the new 20,000+ teu vessels for MOL have specifications which will enable them to use LNG as a propulsion fuel, if needed.
By Paul Richardson
Sea Freight Correspondent | London