SWISS WORLDCARGO MOVES AHEAD WITH ORGANIZATIONAL RESTRUCTURE
May 2, 2017
After what was a challenging year for the industry at large, Swiss WorldCargo is certain that the completion of its corporate reorganization will go a long way toward a more satisfying performance this year.
"We call 2016 the year of two halves," says Ashwin Bhat, head of cargo at Swiss International Air Lines. "The first half was under tremendous pressure. Even in the market, the sentiments were depressed. But as the year progressed, the business continued to improve and the last quarter was surprisingly very good."
Overall, 2016 was a year of growth for Swiss, with the arrival of six Boeing 777-300ERs providing a boost in belly capacity. After initially flying on short European routes for crew training, the new type began being deployed on the long-haul network from April 2016 to major cargo markets such as Hong Kong, Singapore and Bangkok.
"Given the market situation, I have to give a lot of credit to our team because we were very successful in utilizing that extra capacity," Bhat says. "If I look at the load factor for Thailand, Singapore and Hong Kong, it has been more than 90% in and out. Even with the 10-15% increase in capacity, we've been able to maintain our overall network load factor of 80+%. So we've been happy, but obviously I would've been happier if the rates had grown so much as well."
Every year, the company nominates what it refers to as a profitability champion, where a review of all the stations is carried out to see which one performed well versus the internal targets, versus the past year and versus the market. For 2016, that station turned out to be Beijing.
Over the past few months, the carrier has been in the process of restructuring the way in which the company is organized. Bhat, who took over in October 2015, says that he didn't decide to reorganize just to keep everyone busy and to show that he was doing something as the new leader.
"Business is changing and it's changing much faster than what any one of us could have thought," he says. "For me, it's not about having more of the same anymore; it's about having something different. With this in mind, and the fact that we have to look after different things at the same time, I divided the organization into three pillars, each with clear responsibilities."
The first is the business development and customer experience pillar, whose responsibility is, according to Bhat, to "create the future" – the tools, the technology, the products and the services that will keep the business sustainable going forward.
Next is the area and contribution management division.
"The idea of this pillar is to interact with the customers on a day-to-day basis and to do whatever is required to keep our flights full," says Bhat. "What we've done is put the sales and revenue management departments together, so that there is much faster interaction and each knows the needs of the customers."
The third pillar covers quality and services.
"This is the bread and butter of Swiss," Bhat says. "Whatever we promise to our customers, the truth is on the ground. We have to deliver this promise on a daily basis. This also includes internally supporting all our stations."
High on the priority list for this unit is achieving the Center of Excellence for Independent Validators in Pharmaceutical Logistics certification from the International Air Transport Association.
"We're just about to go through the CEIV certification process as an airline," says Christian Wyss, head of quality and services at Swiss WorldCargo. "Our handler Cargologic was certified at our hub in January 2016. We hope to have that completed by the end of this year. All our handling is outsourced and we're talking with our important suppliers at stations which are important for pharma so they can get certified as well."
As part of the reorganization, Swiss has been looking at all of its internal processes to see where efficiency can be improved. Clearly defined roles and responsibilities mean that overlaps or gaps are minimized.
"We're also looking at defining customer care from a different aspect," says Bhat. "How do we further improve it? It's not about irregularity handling and so on, it's the whole package. It's about creating this 'wow' experience for the customer, from pre-sales to after sales and everything in between."
Technology will play a major role in improving the customer experience. Bhat says that this is one of his favourite topics because he truly believes in the benefits that technology can bring.
"This doesn't mean that I want to replace my team or anything like that, but I would like to move my team to more value-generating and customer-facing functions rather than doing certain things that are repetitive and can be automated or digitalized," he says. "Whether it's business-to-business or business-to-consumer, at the end of the day, we are a people-to-people business, so people are still required. Without my team, we are not going to go anywhere."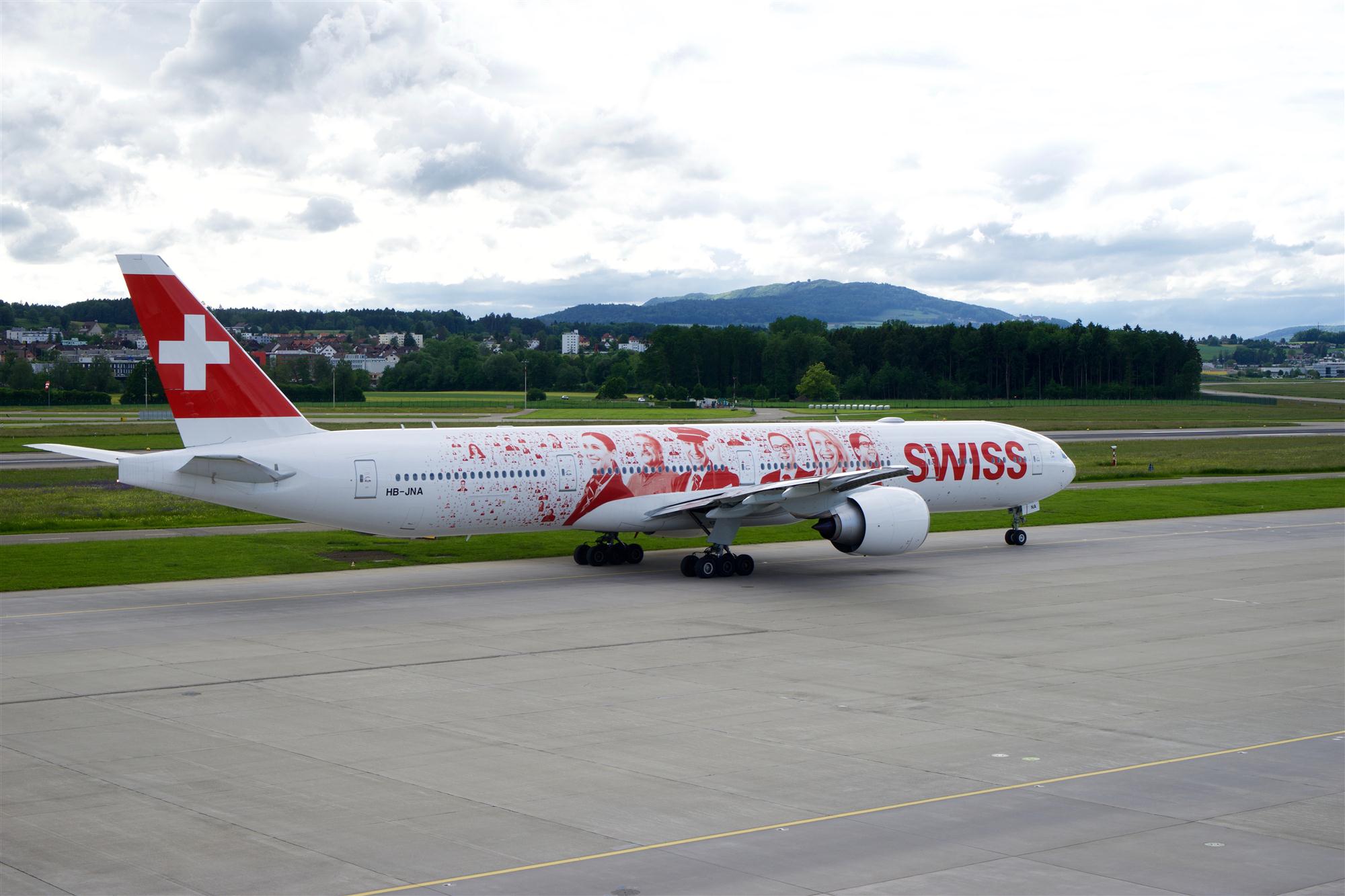 At the time of writing, Swiss has three more 777-300ERs left to be delivered, for a total of 10. Of the nine Airbus A340-300s currently operational, the airline plans to keep five and transfer the remaining four to subsidiary Edelweiss Air, which already has two that it received from Swiss in October 2016 and March 2017 respectively.
"We're not going to start flying 10 freighters," Bhat says. "We're focused on certain segments. Last year, even in a tough market, we were able to further increase our product share by about 2%. Our strength is not mass growth, but quality in precise niches requiring the kind of facility which is there at Zurich Airport. The discussions we have with Zurich Airport cover things like how we can further upgrade the infrastructure already there to help us grow in the segments we want to be in."
Wyss stresses that the company will look at improvements and optimizations rather than large-scale construction.
"There is still space to expand within our current facility and to better utilize it," he says. "With the current growth that we foresee, we don't really need a bigger terminal at this point in time. For us, it's the quality that counts rather than the quantity."
With regard to the year ahead, Bhat says he personally feels that the industry is much more confident as a whole.
"This time last year, the customers were not so optimistic, to put it positively," he says. "If you look at the first three months for Swiss, it's been much, much better than 2016. I have to look confidently into the future."
He adds that he and his team will continue with the same positive growth that they have shown so far and carry it through the remainder of the year.
"We have a lot of things in the pipeline," says Bhat. "Right now, I have the right team and they are focused and ready to move on."
By Jeffrey Lee
Asia Cargo News | Abu Dhabi