OMAN AIR CARGO SIGNS CONTRACT WITH JETTAINER
October 6, 2017
Oman Air Cargo has signed a five-year ULD-outsourcing contract with Jettainer, effective from October 5, 2017.
The carrier will be using lightweight ULDs constructed of carbon fibre and partly recycled composite materials, resulting in a reduction of CO2 emissions, an improved payload, as well as an increase in fuel efficiency.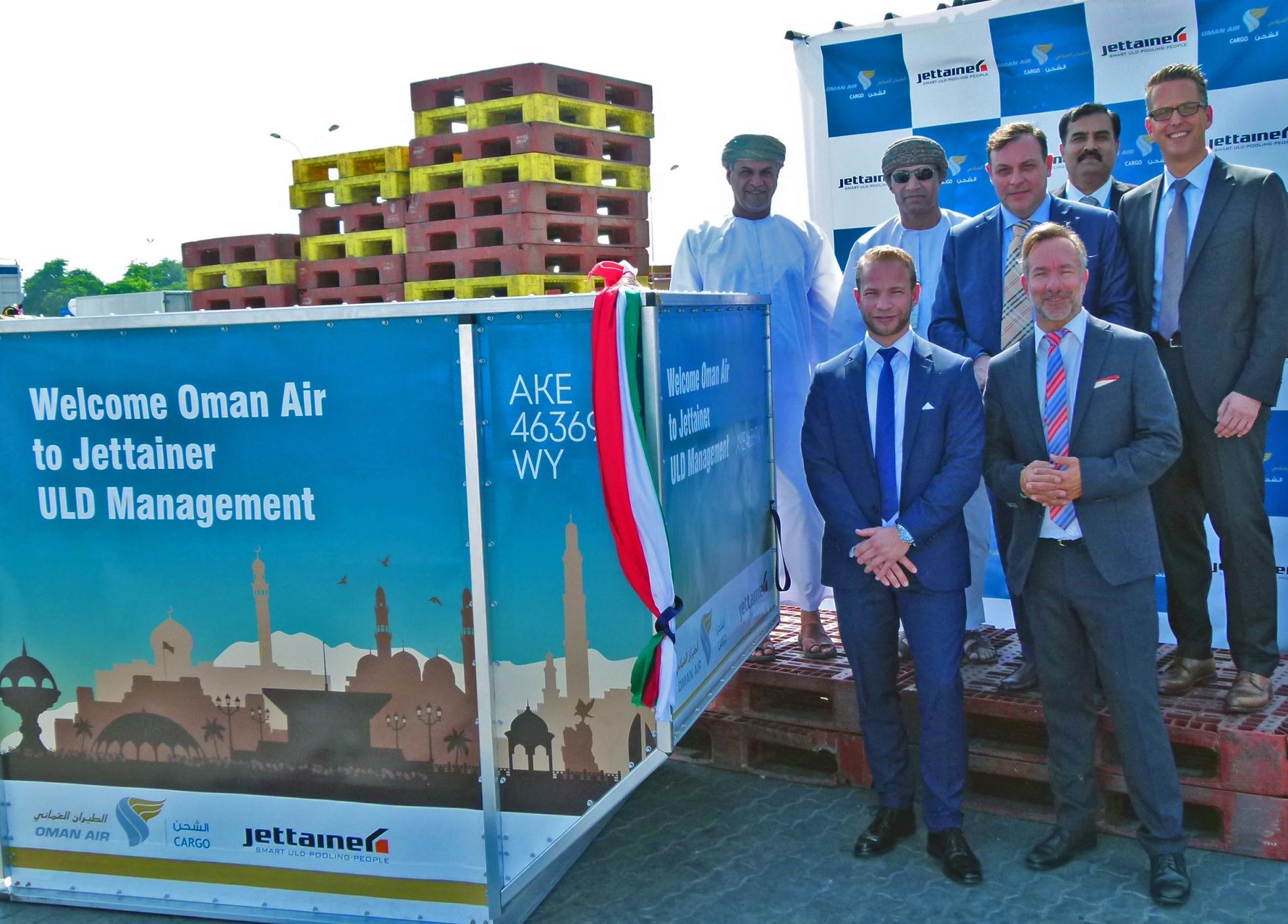 "In line with our strategy to 'become the best,' and strengthen our status as a leading international cargo carrier, we are excited to work with an industry leader such as Jettainer in order to offer our clients the best possible service in line with leading industry standards," said Mohammed Al Musafir [back left in photo], senior vice president of commercial cargo at Oman Air, speaking at the signing ceremony in Muscat. "Our agreement with Jettainer comes at a time of excellent growth and modernization of the cargo division, as we continue forward with our aggressive growth plan. We are confident Jettainer is a partner that shares our positive outlook and offers us the right services and technology to further improve our offerings."
Jettainer's management solutions reduce Oman Air's existing container fleet by about 20% to 1,200 units. According to Jettainer, 600 new lightweight containers will replace older aluminium units, and another 200 lightweight ULDs will be added to the fleet in the near future.
"We look forward to work with Oman Air, a very successful and rapidly growing global airline from the Middle East," said Carsten Hernig, managing director of Jettainer GmbH. "We are proud that we are able to stand out from our competitors with our smart solution, which is the combination of Jettainer's experts, technology and ULD hardware."
A team of Jettainer ULD controllers is currently based at Oman Air Cargo's operations centre in Muscat, where system rollout, training and operational transfers have been completed by a joint project team. All ULDs are maintained by Jettainer at Muscat International Airport and across Jettainer's global repair network.
"With this cooperation, we continue to expand our presence in the strategically important Gulf region," said Martin Kraemer [front right in photo], head of marketing and PR at Jettainer. "This is an enormous dynamic market, which enables us to proceed with our course of growth in the long term."