US AIRPORTS ADJUST TO NEW LANDSCAPE
October 20, 2014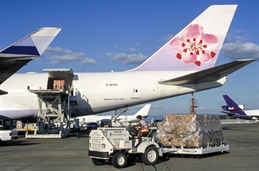 The revival of a scheduled freighter operation covering the domestic US market (with possible international links envisaged further down the road) proved sadly short-lived. At the end of September, Amerijet shut down its hubs at Rickenbacker airport in Columbus and in Reno, ending a brief venture that had raised eyebrows and hopes in equal measure when it was launched in July.
The Florida-based carrier had flown a 767 freighter six days a week on a trunk route between the two points, both of which were plugged into road feeder spokes to strings of markets on either end of the country. With transit times of two days or less, the hybrid network was supposed to offer an alternative to ground services and overnight express offerings, but the volumes did not meet management's projections.
Mike Webber, a former airport cargo executive turned industry consultant, observed that the Amerijet endeavour followed the demise of domestic airfreight networks like BAX Global or Kitty Hawk. "There is a reason why these carriers went under. There may not be a sustainable business for a domestic freighter network," he commented.
The Columbus Regional Airport authority, which runs Rickenbacker as well as Columbus and Bolton Field, hopes that its latest international scheduled freighter link will prove more durable. In March Cathay Pacific inserted a stop at Rickenbacker in two of its freighter frequencies to New York, which subsequently went up to three weekly calls in Ohio.
The operation relies heavily on fashion imports from Asia, and the airport authority is eager to develop export business in order to anchor it at Rickenbacker, confirmed David Whitaker, vice president of business development and communications. To that end, a main deck loader was obtained in September.
"Export services will provide the region's shippers and forwarders with faster, more secure and direct services to the many cities served by Cathay Pacific through their extensive global network," declared Elaine Roberts, the airport authority's president and CEO.
Rickenbacker's success in attracting international freighter service is the exception rather than the rule, remarked Webber. He pointed out that in recent years freighter activities have consolidated more at the major gateways. With freighter operators under pressure from the rise in bellyhold lift, the major hubs stand to continue to grow faster than smaller rivals, although the expansion of the worldwide B787 and 777 fleets should bring some direct lift to second-tier US cities, he reckons.
Seattle-Tacoma is one of the smaller gateways to benefit from the latter development. "The growth we have seen over the past two years from belly capacity has been fantastic," confirmed Tom Green, the airport's senior manager of air cargo.
For all the recent increase in passenger services – courtesy of Delta and international carriers like ANA and Emirates – Sea-Tac has not registered a marked move away from freighter capacity. Last year, Asiana shifted its freighter service to the Pacific Northwest over from Portland, bringing Seattle's regular Asian maindeck links to four carriers. A strong cherry season this summer prompted all of them to boost their lift and drew in charters from three other freighter operators, Green reported.
The airport completed two new hard stands for freighters this summer. One reason for this has been the proliferation of the 747-8 freighter, for which the existing freighter parking positions were insufficient. Two of Sea-Tac's regulars, Cargolux and Korean Air, slot them through the airport, and Nippon Cargo used it for charters this summer.
"Occasionally, we get in project cargo with Antonovs," said Green. "Before this summer we had only one spot for Group Six freighters."
In light of the decline in freighter activity and the slow recovery in throughput volumes after the downturn of 2008-9, there has been little development of new cargo facilities at US airports, as existing warehouse capacity has been adequate, if not downright underutilized, observed Webber. In his opinion, this marks a missed opportunity in some cases. Without the pressure of cargo growth pushing warehouses to the limits of their capacity and beyond, this would be a good time to replace outdated infrastructure with modern facilities, he said, but acknowledged that the financial situation of airports and current returns from cargo make it difficult to embrace a multi-million-dollar cargo development without a pressing need.
There have been exceptions. San Francisco completed the development of a new cargo facility in September, which is part of a 10-year plan to upgrade some facilities. At Chicago O'Hare, a 490,000 sq ft cargo terminal is due to open in November, and the first phase of a whopping 820,000 sq ft development is under construction to come on stream in 2016.
In many cases, airports in the US face a bleaker option than the replacement of outdated cargo buildings, according to Webber. With the prospect of no new tenant stepping forward to replace operators that have gone out of business or pulled out of their city, simply tearing them down and redesignating the space for other purposes may be the way forward for them, he said.
By Ian Putzger
Air Freight Correspondent | Toronto