ANA OBTAINS CEIV PHARMA CERTIFICATION
January 4, 2018
All Nippon Airways has been awarded the Center of Excellence for Independent Validators in Pharmaceutical Logistics certification from the International Air Transport Association for its cargo operations at Tokyo's Narita International Airport.
"We are honoured to be certified as CEIV Pharma," said Toshiaki Toyama, senior vice president of cargo marketing and services at ANA and president of ANA Cargo. "I am pleased to see that our operation is acknowledged for its excellence in pharma handling. At the same time, I see it as our duty to set industry standards as we are the first Japanese airline to be certified."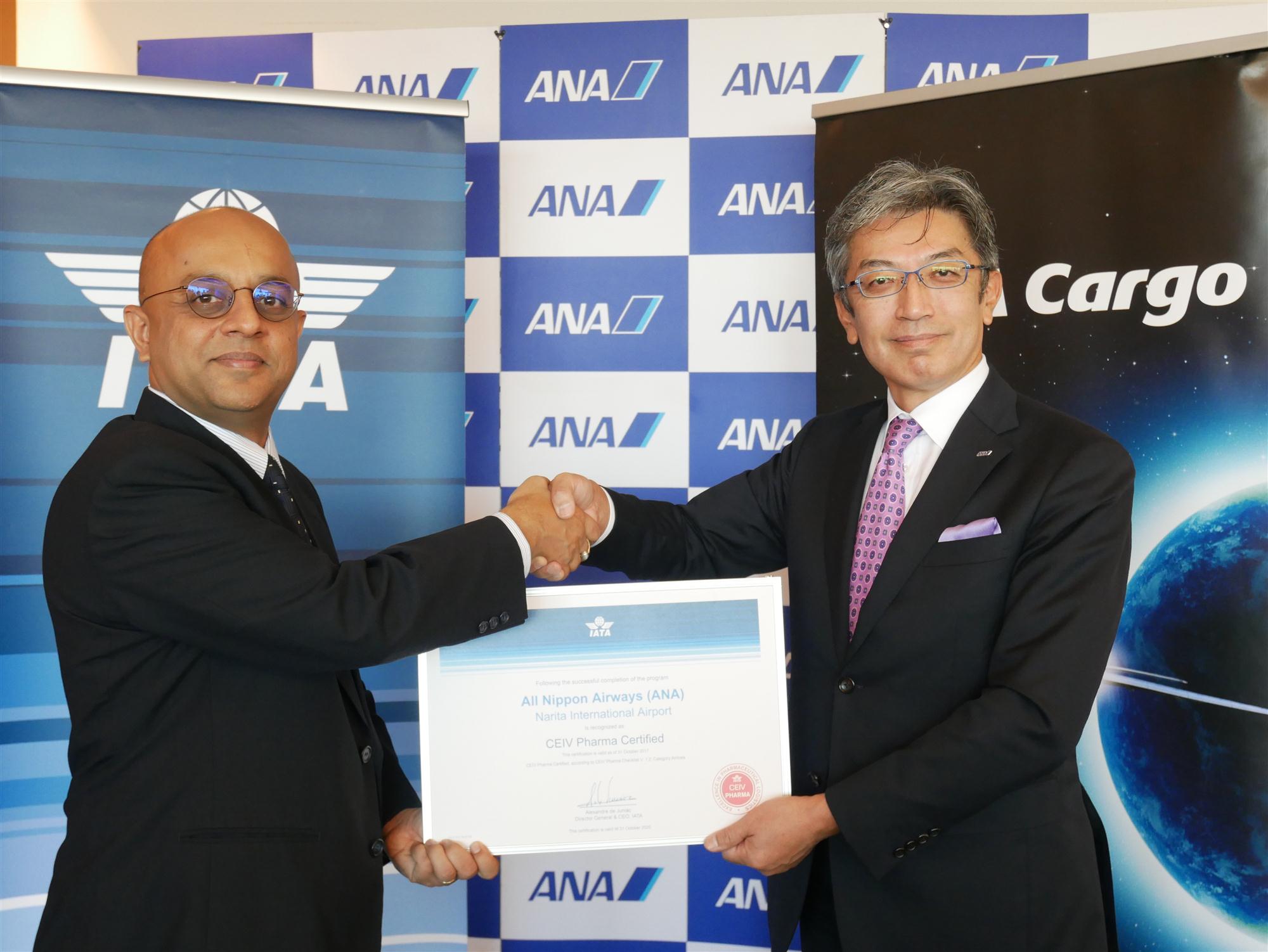 According to Hiroshi Sugiguchi, executive vice president of global marketing at ANA Cargo, as legal and regulatory measures such as the European Union's Good Distribution Practice for medicinal products place more demanding requirements on all parties, ANA's newly certified status means that it can now contribute and play its part in curing illnesses and saving human lives.
"This certification along with our temperature-control product lineup is an effort to let customers know of our quality and to expand ANA's market share of pharma," he said. "With third-party-certified handling procedures and a quality management structure we can expect a growth in the market by answering to our customers' high needs and demands. We especially believe that customers in Europe, where the EU GDP requirements are legally binding, will be more likely to choose ANA when moving pharma shipments to and from Japan and Asia."
The CEIV Pharma certification was produced by IATA to establish a global standard for the handling of pharmaceutical shipments in the air cargo supply chain.
To improve its quality in handling and transporting pharmaceutical products, ANA implemented enhancements in areas such as organizational structure, training, quality management and handling manuals.
"We began considering the possibility in late 2015," said Sugiguchi. "We finally signed off the contract in July 2016 and participated in IATA's training sessions soon after. The first assessment, reviewing a checklist of 250 items, was conducted in November 2016. We worked on taking corrective actions for the non-conforming items and had the final validation at the end of October 2017. The actual work took us about a year."
Sugiguchi sees the potential for a CEIV Pharma community at Narita so that CEIV Pharma corridors can be established to other certified hubs such as Singapore and Brussels.
"I think there is a great opportunity," he said. "Narita is a hub for international passenger and freighter flights. The certification will have more appeal to customers if the whole cool chain can be assured. As we are the only airline to have a direct flight to Brussels, it is one of our key markets."

While Narita serves as the predominant international hub for ANA, the carrier also operates a large international network at Haneda Airport, where it is the only airline to have its own cargo facility.
"Certifying our operations at Haneda is something we are exploring, along with Kansai International Airport," Sugiguchi said. "In the future, ANA Cargo, as the cargo and logistics company of the ANA Group, could obtain the certification at Haneda Airport as a ground handler. That will increase the competitiveness of pharma logistics for ANA, Japan's only combination carrier with passenger and freighter services."
Looking ahead, ANA will continue to look at how to strengthen its product offering for temperature-controlled shipments. In September 2016, ANA launched its PRIO IB Fixed Temp. solution, consisting of refrigerant plates using IceBattery technology developed by Innovation thru Energy Co., Ltd. which allows cargo to be kept for 100 hours within three temperature ranges: 2 to 8°C, -20 to -15°C and -25 to -20°C.
"We want to address our customers' needs more closely and precisely," said Sugiguchi. "Passive temperature ranges are in high demand now, so this is something we want to work on."
ANA is the 14th carrier to obtain the CEIV Pharma certification, joining AirBridgeCargo, Air France, Amerijet, CAL Cargo, Cathay Pacific, Delta, Finnair, KLM, LATAM Cargo, Lufthansa Cargo, SAS Cargo, Singapore Airlines Cargo and Turkish Airlines.
By Jeffrey Lee
Asia Cargo News | Hong Kong