PHARMA LOGISTICS STEPPING UP
June 18, 2015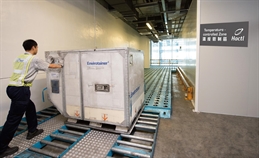 Ever more stringent pharmaceutical industry regulations and the resulting increased pressure on manufacturers to ensure the integrity of their products throughout the supply chain are driving a continual upgrading of logistics services in that market.
Forwarders, carriers and handling companies seeking to be major players in the Asian and wider global pharma logistics sector are having to further step up an often already-substantial investment in dedicated facilities, equipment, people and processes in order to satisfy customers that they can meet the required quality standards.
In the forwarding arena, one of the latest examples of that trend saw CEVA Logistics launch its healthcare activities, previously a sub-sector of its consumer and retail business, as an independent sector and follow that up with news last month that it had appointed Turhan Ozen, formerly the company's vice president, business development, for the Balkans, Middle East and Africa, as senior vice president for that operation.
In another recent development highlighting the push by many forwarders to further strengthen their pharma logistics credentials, Kuehne+Nagel in Amsterdam became the 500th station to achieve the Qualified Envirotainer Provider Training and Quality Programme (QEP) accreditation created by Envirotainer, a leading supplier of temperature-controlled containers for the pharma/life science industry worldwide, to recognize partner airlines, logistics providers and integrators capable of properly managing its shipments.
With the addition of Amsterdam, Kuehne+Nagel now operates 58 QEP stations (including seven major Asian gateways – Bangkok, Mumbai, Hong Kong, Kuala Lumpur, Shanghai, Singapore and Taipei) within the current certified global KN PharmaChain network of 69 airfreight stations, according to Envirotainer.
Many international airlines have also recently further-upgraded their pharma sector operations. Examples so far this year include Etihad Cargo, with a new service called TempCheck "to ensure the integrity of all temperature-sensitive pharmaceutical and healthcare products," and Qatar Airways Cargo through a series of enhancements to its existing QR Pharma service.
In Asia, Hong Kong-based Cathay Pacific Cargo reported late last year that it had signed a master agreement with German company DoKaSch Temperature Solutions relating to the renting of active containers, the RKN and RAP Opticooler, to handle temperature-sensitive pharma products.
Alongside the introduction of new high-end temperature-controlled containers for pharma traffic, some carriers are also investing in other types of equipment designed to keep less-sensitive products cool. Emirates SkyCargo, for example, last year launched a lower-cost option called the White Container, based on a standard LD3 unit. The containers are coated with thermal insulators and use coolant trays which enable handlers to replenish dry ice or coolants without disturbing the packaging.
Earlier this year, European airline group IAG Cargo announced an expansion of its Constant Climate network, which provides customers with precision temperature control for pharma and life science shipments, with the addition of two more stations in Ecuador to boost its total of such facilities worldwide to 105 (including 11 in the Asia Pacific region).
Some handling companies, too, are upgrading their operations to provide higher quality services for pharma traffic. Last year, for example, Hong Kong Air Cargo Terminals (Hactl) announced it had achieved Good Distribution Practice (GDP) accreditation to bring it in line with the World Health Organization's quality assurance guidelines for the handling of pharmaceuticals. To meet those requirements, Hactl enhanced the temperature-controlled zones in its SuperTerminal 1 facility to accommodate pharma products requiring temperatures of 15°C to 25°C, 2°C to 8°C, and -15°C to -25°C. The company has also designated a fast-track 'Golden Route' designed to ensure that all such cargo achieves the fastest possible transit between the airport apron and handling areas.
Earlier this year, Swiss WorldCargo's ground handling partner Cargologic expanded its cold storage facilities at Zurich Airport in Switzerland to provide more capacity for the storage of temperature-sensitive shipments, having previously secured GDP accreditation.
"The new facility will cater for the increasing volumes of pharma and biotech shipments via Zurich – and transfer shipments in particular – by offering 120 additional euro pallet spaces for cargo that needs to be stored at between +2°C and +8°C," stated Swiss WorldCargo.
Such investment in new pharma logistics facilities and technology by cargo handlers, airlines and forwarders is set to continue. However, according to many logistics providers servicing that market, the bigger challenge now for the sector as a whole is how to further develop overall supply chain management processes to ensure consistent compliance with the global healthcare industry's quality and regulatory requirements.
The background to that issue was outlined by Ozen of CEVA Logistics whose major technological developments in that sector over the last couple of years have included teaming up with TOWER Cold Chain Solutions to introduce the KTM (KryoTrans Modular) modular pallet shipper capable of sustaining temperatures of -20°C, 2-8°C and 15-25°C using phase-change materials and from -20°C to -60°C using dry ice.
"Technology is not really the issue. The more important factor is the management and safeguarding of the supply chain processes," said Ozen. "That point is very apparent when we talk to the major pharma manufacturers. They want 100 percent assurance that the right quality systems are in place and that those practices are under strict control throughout the supply chain."
Similar points were made by a spokesman for DHL Global Forwarding, whose investment in the life science and healthcare sector over the last few years has included the development of Certified Life Science Stations working to GDP standards and a service called DHL Thermonet to provide customers with 24/7/365 monitoring and visibility of temperature-sensitive products.
"Growth in forwarder and airline service development (in the pharma/healthcare market) is being primarily driven by the sector's need to meet increased regulatory and quality demands," he said. "Customers are seeking a greater level of quality and compliance outside of the traditional GMP (Good Manufacturing Practise) process, which is creating opportunities for service providers to close the gaps in the broad GDP arena, particularly in relation to temperature-sensitive products moving by air."
By Phil Hastings
Europe Correspondent | London