CMA CGM LAUNCHES CONTAINERIZED LIQUID TRANSPORTATION
February 9, 2018
CMA CGM has launched REEFLEX, its new solution for the transportation of liquids by temperature-controlled container.
According to CMA CGM, the solution was developed in partnership with Teconja, a German expert in juices, and Liqua, an expert in packaging solutions for the transportation of liquids.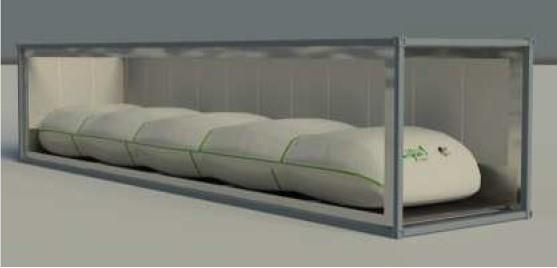 REEFLEX allows for the transportation of liquids such as juices, milk, compotes, syrup and oils in a single bag with a capacity ranging from 12,000 to 24,000 litres. It is available on 40-foot reefer containers and is installed in three minutes. The bag is filled and emptied in 35 minutes using an external pumping system and is an alternative to breakbulk, allowing exporters and importers to carry their goods by containers with improved transportation and delivery conditions.
"CMA CGM owns one of the largest and most modern reefer fleets in the world," said Eric Legros, deputy vice president of reefer at CMA CGM. "A pioneer with Aquaviva, a unique solution for the transportation of lobsters and shellfish, the group continues to innovate with the introduction of REEFLEX, a state-of-the-art technology for an optimal transportation of liquids."
REEFLEX keeps a sterile environment and controls temperatures between -35°C and +20°C, helping to maintain the product's nutritional and chemical properties. Each single-use bag is recyclable and produced based on the needs of customers.
CMA CGM is the second-largest reefer carrier in the world.