CATHAY SIGNS LEASING PARTNERSHIP WITH SONOCO
April 11, 2018
Cathay Pacific Cargo and packaging provider Sonoco ThermoSafe have signed a partnership agreement for the leasing of Sonoco's PharmaPort 360 temperature-controlled bulk container.
According to Cathay, the agreement enables pharmaceutical shippers to lease PharmaPort 360 containers directly from Cathay Pacific Cargo, boosting the carrier's Pharma LIFT capabilities and providing customers worldwide with a hybrid option for moving time-sensitive, high-value pharmaceuticals by air.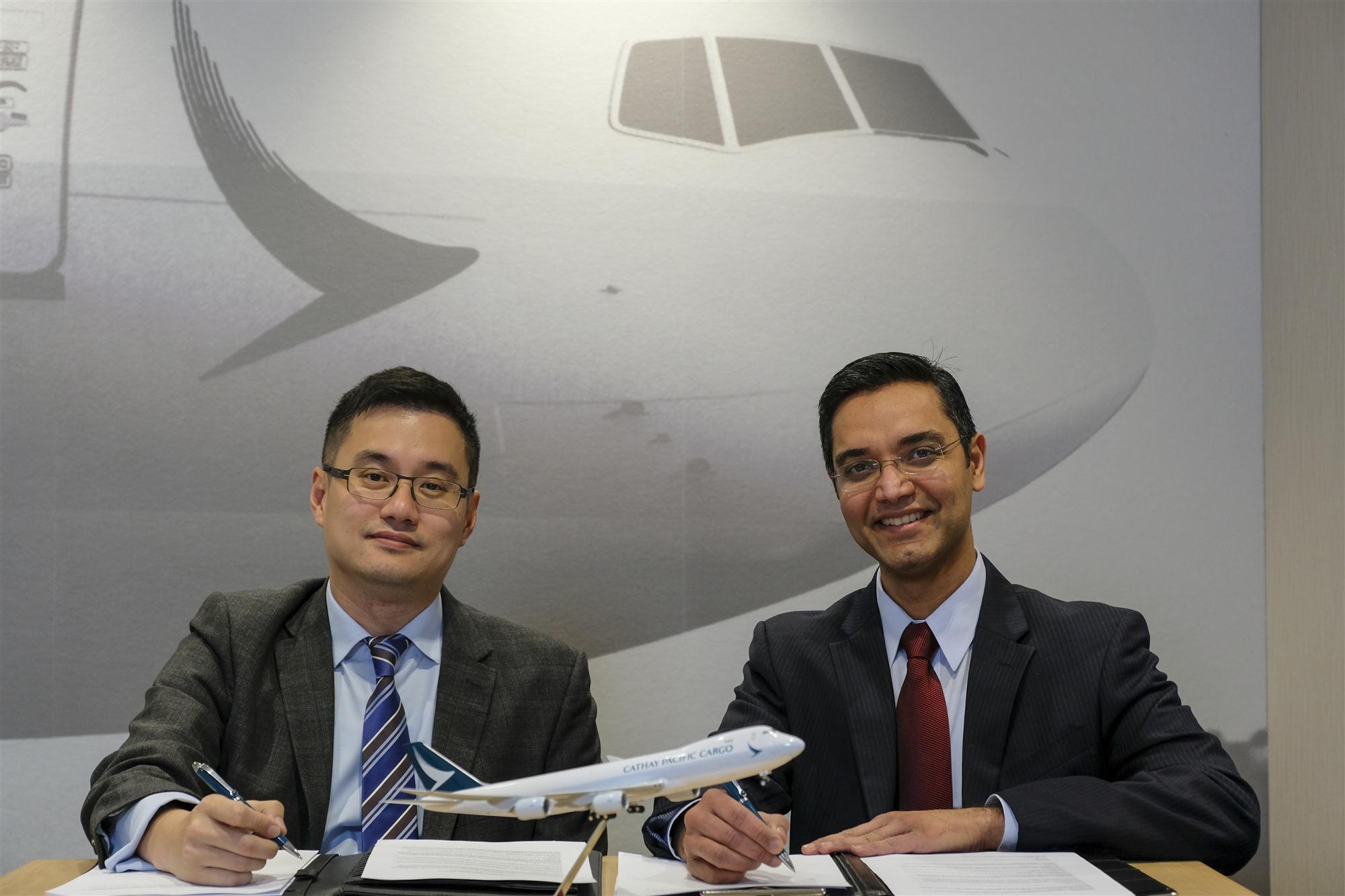 "Sonoco's reputation for quality perfectly aligns with our own high standards for service delivery," said Frosti Lau [left in photo], general manager of cargo service delivery at Cathay Pacific. "We are delighted to have this unique and world's-first partnership with Sonoco ThermoSafe, and we are confident this collaboration will provide our customers with a consistent solution for the transportation of vital and life-saving pharmaceutical products."
The PharmaPort 360 container uses proprietary hybrid technology to control the temperature. Once charged, it functions like an active temperature-controlled container without the energy consumption or heat discharge of other compressor-based technologies. Hybrid technology allows the container to operate on battery power substantially longer than other active units used for bulk air shipments and also eliminates the need for refrigerated trucks.
"The PharmaPort 360 provides best-in-class active temperature control, while utilizing a hybrid technology that maintains strict +5°C control while providing real-time temperature and location visibility across the supply chain," said Vishal Khushalani [right in photo], director of global marketing and  business development for Sonoco Protective Solutions. "The container is also easy to use and is versatile across transportation modes. By taking the extra time to build in the integrated telemetry, we were focused on providing advanced visibility to eliminate any opportunity for product loss. Everyone using the PharmaPort's data services can view each container's internal and external temperature and location at any time, and the transportation supply chain can respond effectively to any challenges that arise."
Cathay Pacific became the first carrier in Hong Kong to achieve the International Air Transport Association's Center of Excellence for Independent Validators in Pharmaceutical Logistics certification in October 2017.