SAUDIA CARGO TO BUILD NEW CARGO FACILITY IN JEDDAH
June 7, 2018
Saudia Cargo is to construct a new cargo facility at its hub at King Abdulaziz International Airport in Jeddah.
According to Saudia, agreements have been signed with three companies. Al-Bawani will be in charge of construction and implementation of the project, while Siemens will supply the facility with mechanical equipment and advanced cargo-handling systems, and AECOM will act as the supervisor of the new facility's engineering works.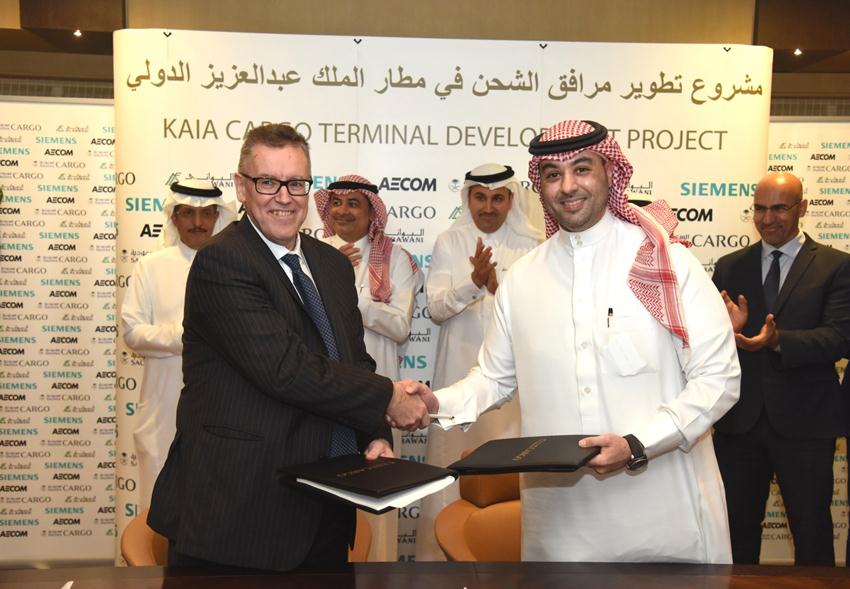 "The 75,000-square-metre cargo-handling facility has double the area of the current one, estimated at 35,000 square metres," said Omar Hariri [right in photo], CEO of Saudia Cargo. "The first phase of the project commences June 2018 and is expected to end November 2019 while the second phase begins June 2020 and ends December 2021 as per the implementation plan."
The new facility will enhance Saudia Cargo's handling capabilities for hazardous materials, pharmaceuticals, frozen materials and other goods, and is in line with the carrier's Strategy 2020, launched recently in alignment with the Saudi Vision 2030 plan to diversify the country's economy.
"We will strive to turn the kingdom into a global logistics and economic hub," Hariri said.
Saudia Cargo inaugurated a cold storage facility for medical and pharmaceutical products at King Abdulaziz International Airport in May 2018, and is planning to open a similar facility in Riyadh.