K+N TO BEGIN OPERATIONS AT BUDAPEST AIRPORT
June 13, 2018
Kuehne + Nagel will begin operations at Budapest Airport from July 1, 2018 with newly leased warehouse and office space.
According to Budapest Airport, the air freight division of Kuehne + Nagel in Hungary will be able to closely monitor all the developments at the airport, with a widespread operational basis for special or high-value cargo shipments of goods, such as pharmaceutical products.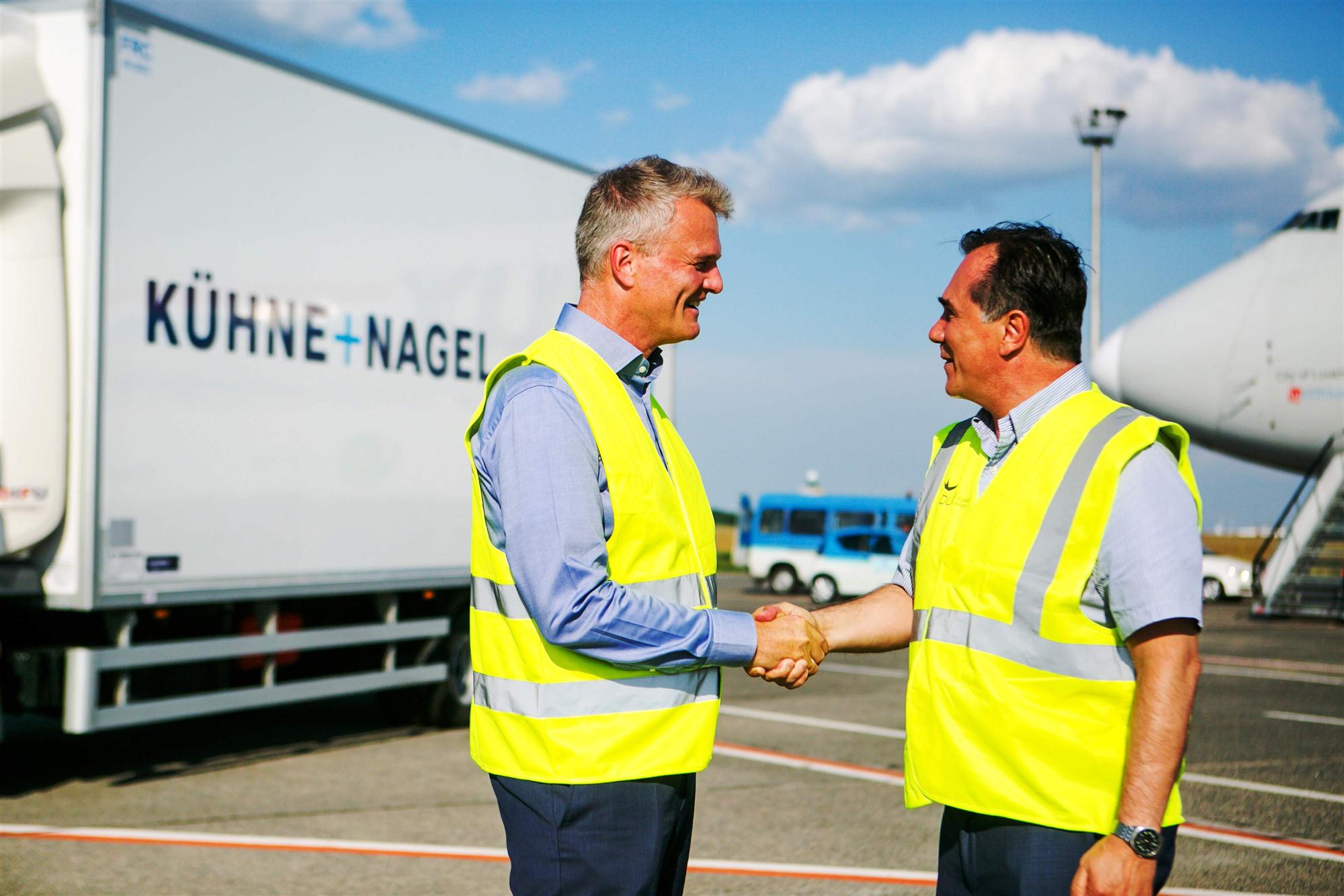 "We warmly welcome our partners in the forwarding business, joining our Cargo City community," said René Droese [left in photo], director of property and cargo at Budapest Airport. "I believe that this first warehouse and office space lease agreement is just the beginning of a long relationship between Budapest Airport and Kuehne + Nagel. I look at forwarder companies as our closest strategic partners in developing our cargo route network. Jointly, we can bring the right cargo airlines with the right capacity and flight frequency to Budapest. We can also further develop our logistics capacities according to the needs of our partners, based on the latest technological developments. Being close to cargo operations is not only a question of convenience, but also an important factor in keeping costs under strict control."
In addition to its belly cargo operations, the Hungarian hub serves all-cargo flights operated by carriers such as Cargolux, Turkish Cargo, and Qatar Airways Cargo. Four new North American routes this summer will connect Budapest with New York, Chicago, Philadelphia and Toronto, offering a capacity of up to 10 tonnes per flight.
"As the leading air freight forwarder in Hungary, we are aiming to find the best solutions, in order to continuously maintain our existing high level of service," said László Szabó [right in photo], national air freight manager of Kuehne + Nagel Hungary. "We believe that keeping our fingers on the pulse of our customers' business helps us to react rapidly and meet all of their expectations, for example, new direct overseas services to Philadelphia, Chicago or New York. This is why we are excited to partner with Budapest Airport."
As part of the €160 million (US$188 million) BUD: 2020 Development Programme, Budapest Airport is investing in the development of its cargo business and has already opened two major integrator facilities in the summer of 2017. Construction of Cargo City, a new dedicated freight centre, will commence this summer and is planned to be completed by summer 2019.