ONE RECEIVES FIRST NEW CONTAINER VESSEL
June 13, 2018
Ocean Network Express Pte. Ltd. has taken delivery of its first new container vessel, the 14,000 TEU ONE Stork.
According to ONE, the ship was built at the Kure Shipyard of Japan Marine United Corporation and features the Japanese line's magenta branding. The sublet owner is Nippon Yusen Kaisha.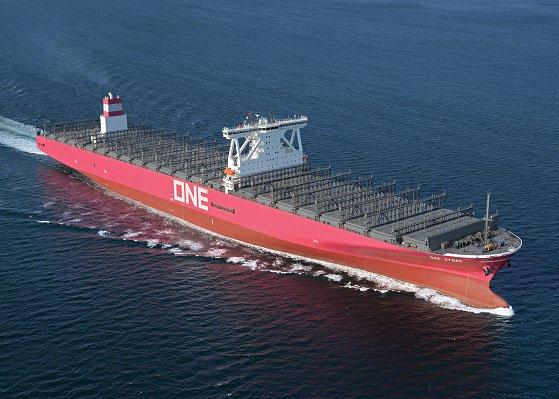 "ONE is excited to take delivery of the first newbuilding container ship with our new corporate colour, magenta," said Jeremy Nixon, chief executive officer of ONE. "The magenta colour shows our intentional drive to do things differently and explore newness in this market. There is no doubt that she will be one of our most important core fleet. We are committed to continue the company's efforts to provide higher-quality and more competitive services for our customers."
The vessel features a hull form which allows for improved cargo-loading efficiency and minimized engine-room space. The dual system in its main engine allows for flexible operations and reduced carbon emissions, with high or low output ranges.
The ship will be deployed on THE Alliance's EC4 service connecting Asia and the East Coast of North America, with a port rotation of Kaohsiung – Hong Kong – Yantian – Cai Mep – Singapore – New York – Norfolk – Savannah – Charleston – New York – Singapore.