EMIRATES SKYCARGO SIGNS MOU WITH CAINIAO
June 14, 2018
Emirates SkyCargo has signed a memorandum of understanding with Alibaba Group's logistics arm Cainiao Smart Logistics Network Ltd. to jointly facilitate the delivery of cross-border parcels using Dubai as a hub.
Under the MoU, SkyCargo and Cainiao will work closely to manage e-commerce shipments in the Middle East and the neighbouring regions through Dubai. Further details of the tie-up will be announced in due course.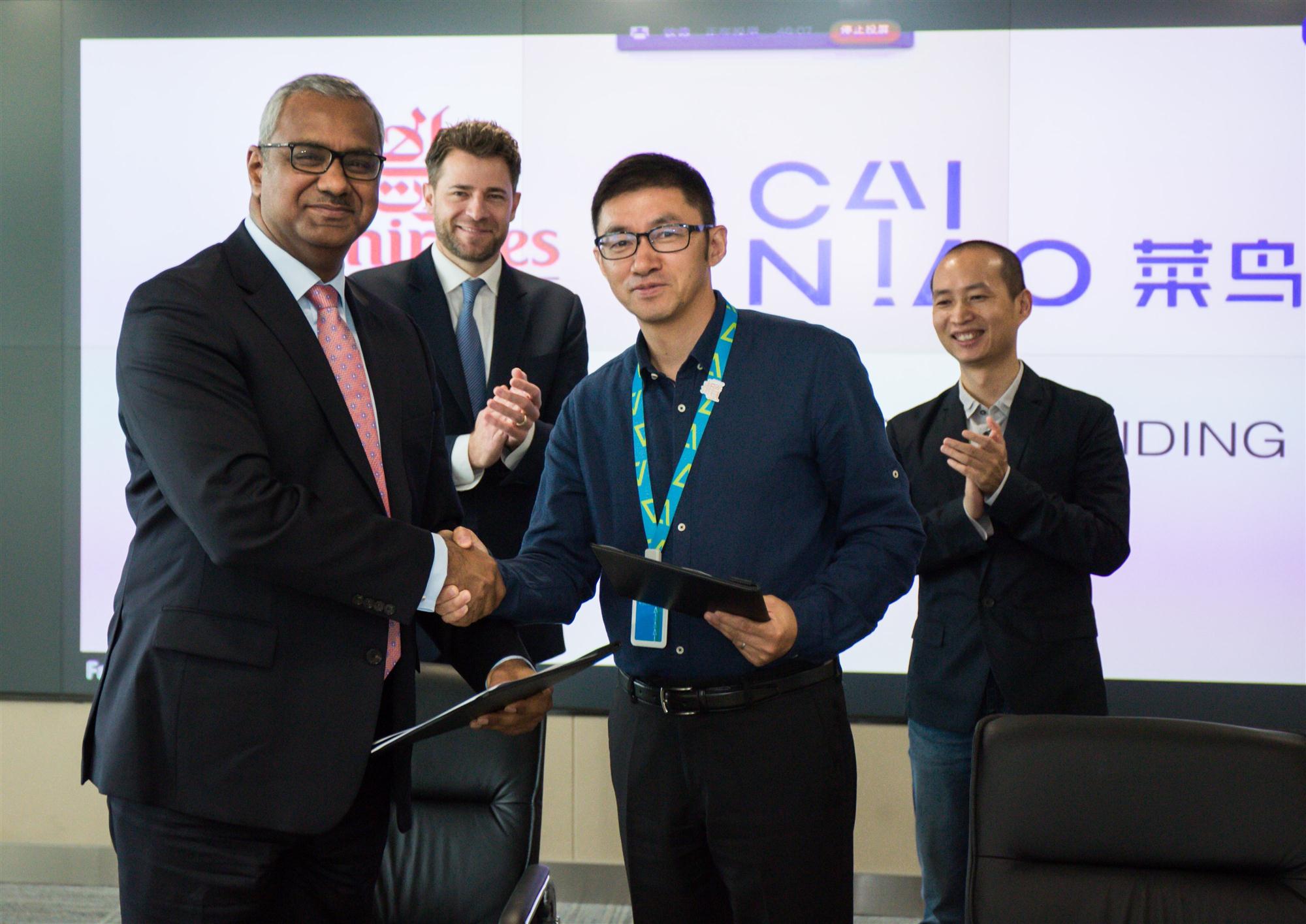 "We are delighted to be entering into this agreement with Cainiao," said Nabil Sultan [left in photo], divisional senior vice president of cargo at Emirates. "The MoU that we have signed today is the first step in what will be a deep and fruitful relationship between Emirates SkyCargo and one of the biggest players in the global e-commerce supply chain. With Emirates SkyCargo's network spread, frequency of flights including close to 50 weekly flights from China, our state-of-the-art hub facilities and the strategic location of Dubai which allows it to serve as an effective logistics hub for the region, we are confident that we will be a strong partner for Cainiao to bring an enhanced experience to their customers in the Middle East and neighbouring regions."
Cainiao recently announced that it plans to develop six global hubs around the globe, with Dubai being one of the candidate cities. The company uses big-data technology and open collaboration to build a global infrastructure which links all the logistics elements to improve delivery efficiency and customer experience for all players along the supply chain.
"As a key gateway that links Asia and Europe, Dubai is well positioned to help us achieve our goal of 72-hour global delivery," said Xiaodong Guan [right in photo], general manager of Cainiao Global Business. "The MoU with Emirates SkyCargo is another milestone to reach this goal. We have a strong commitment to Dubai and the neighbouring markets. This fits well with our broader strategy."
Emirates SkyCargo offers cargo capacity to over 155 destinations worldwide using a freighter fleet of one Boeing 747F and 13 777Fs as well as an all-widebody passenger fleet of more than 250 aircraft. The carrier operates two Emirates SkyCentral cargo terminals in Dubai.