EMIRATES TRANSPORTS ONE MILLIONTH ULD BETWEEN DUBAI'S TWO AIRPORTS
September 13, 2018
Emirates SkyCargo has transported the one millionth unit load device through its bonded corridor trucking service at its Dubai hub connecting Dubai International Airport and Al Maktoum International Airport.
According to the carrier, the trucking service was launched in April 2014 and allows for rapid connection of cargo between Emirates' passenger aircraft, based at DXB, and freighter fleet, based at DWC. A fleet of 49 trucks, including 12 refrigerated trucks for temperature-sensitive goods, transports cargo between the two airports on a 24/7 basis.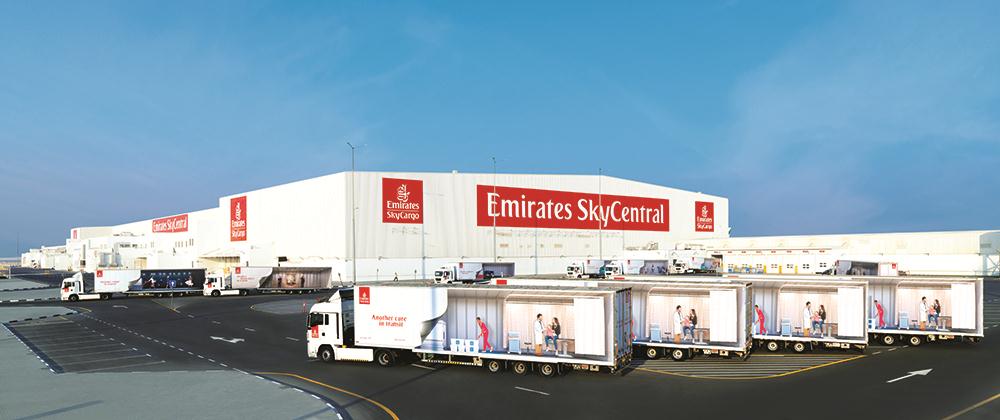 "Emirates SkyCargo is the only air cargo carrier to operate a two-airport cargo hub capable of handling close to 3 million tonnes of cargo in a year," said Henrik Ambak, senior vice president of worldwide cargo operations at Emirates. "Our fleet of 49 trucks function similar to a continuously rolling conveyor belt allowing connection times of 4.5 hours between cargo arrival at one airport and departure from the other, thereby effectively integrating two airports into a single hub. Moving one million ULDs through Emirates SkyCargo's bonded virtual corridor in just four years is a testimony to the critical importance of this service to our total offering."
Over the last four years, the trucking service has moved more than 1.2 million tonnes of cargo over more than 272,000 trips between the two Emirates SkyCentral facilities, ranging from temperature-sensitive pharmaceuticals and perishables to luxury cars. The fleet of trucks is maintained and operated on behalf of Emirates SkyCargo by Allied Transport Company, based in Dubai South.
"In order to ensure the safety of cargo in transit, all the trucks in the fleet are equipped with satellite tracking and operate in a pre-determined geo-fenced route between the airports," said Percis Paghdiwalla, manager of the Emirates road feeder network. "The operation of the trucking service, which carries close to 1,000 tonnes of cargo every day, is planned and monitored round the clock by a dedicated team. The trucks are also fitted with tamper-proof locks for each journey, verified by Emirates Group Security and Dubai Customs, providing an additional layer of security for transit shipments."
The freight division of Emirates is the world's largest international air cargo carrier by freight tonne kilometres, operating a fleet of 14 freighters consisting of one Boeing 747-400F and 13 777Fs.