USEC PORTS ENJOY POSITIVE STATUS, FOR NOW
October 5, 2018
It's like playing a game of chicken with the global economy. US President Donald J. Trump and Chinese officials keep upping the ante on tariffs on goods between the two countries. At stake is billions of dollars worth of products. While not a factor yet, the impact will affect US East Coast seaports, particularly the ports of New York/New Jersey and Savannah, which are among the top four US seaports that handle goods from China. (Los Angeles and Long Beach are the other two.) Observers contend that if trade relations continue to deteriorate, robust growth in containerized cargo to and from Asia aboard Panamax ships could be a point of vulnerability for more US ports.
While the next quarter will be telling – because the tariffs will be in full effect at that point – up until now, East Coast ports have seen no reduction in volumes trade, only impressive increases. Many of those increases have to do with benefits derived by the expanded Panama Canal in 2016, which made it possible for them to attract more cargo direct from Asia.
Port of New York/New Jersey
The Port of New York/New Jersey, for one, set a new record in first half 2018 with cargo volumes at 3,450,469 TEUs, up 6.8% over the same time period in 2017. Imports (consisting primarily of furniture, appliances and beverages) increased by 7.8%; exports, 9.2%.
Driving much of the growth, officials say, is the completion of the US$1.6 billion Bayonne Bridge project, which raised the clearance under the bridge from 151 to 215 feet. This makes it possible for ships up to 18,000 TEUs to navigate under it. Previously, the clearance could only handle ships up to 9,800 TEUs.
Port of Baltimore
The Port of Baltimore experienced its best quarter during the first three months of 2018 with a record total of 2,765,247 tons of general cargo crossing its public piers – 8% more than the same period 2017, which, at 2,560,065 tons, was also a record amount. The port also handled 156,991 containers during the first quarter, a 14% increase over 2017, which also was a record year for containers at the port.
The port has benefited from its public-private partnership with Ports America Chesapeake at Seagirt Marine Terminal, which offers a 50-foot deep berth and Neo-Panamax cranes to handle the big ships.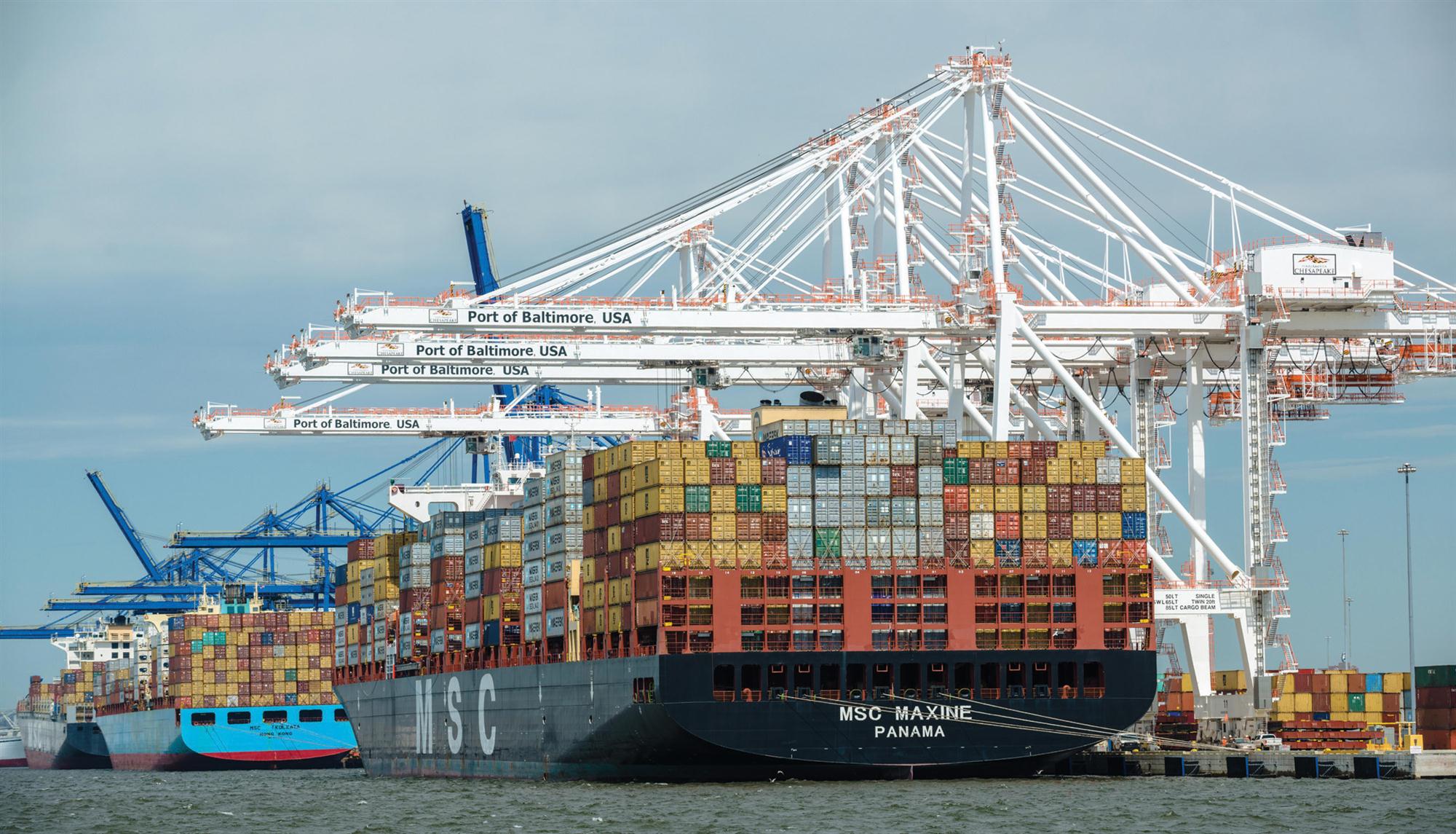 In particular, the Port of Baltimore has the ability to handle multiple 14,000 TEU ships, and recently announced 70 acres of terminal expansion. It has also increased gates and yard equipment to support the same.
"We are also utilizing interactive trucker tools for more efficient dispatching," says Richard Scher, port spokesman.
Even under the cloud of US-Sino trade wars, Scher emphasizes that Asia continues to grow in importance and has been the port's number one trading partner for the last several years, totaling almost 18 million tons of cargo per year. "While imports drive this business, exports are projected to become even stronger in the coming years with plastic resins from the Marcellus and Utica shale basins," he says.
Port of Virginia
The Port of Virginia processed a record-setting 258,821 TEUs in August, an increase of nearly 8% when compared with the same month last year.
"In addition to peak season volumes, we are seeing some inbound cargo that is moving in anticipation of expanded tariffs on select imports," says John F. Reinhart, CEO and executive director of the Virginia Port Authority (VPA).
Still, Reinhart points out that the port is monitoring trade discussions closely. "We are optimistic about our future and are taking the necessary steps to diversify our cargo mix to ensure sustainability in all trade environments," he says.
Looking to the future, the port is examining deepening and widening its channels to accommodate two-way big-ship traffic. Its Norfolk International Terminal (NIT) currently is undergoing an expansion. In July, the first group of six rail-mounted gantry cranes (RMGs) arrived that are the centerpieces of NIT's $375 million capacity expansion project currently underway. All totaled, NIT will receive 60 new cranes.
Another significant project, a new Navis N4 terminal operating system is now operational at Virginia International Gateway (VIG). It is expected to double the terminal's annual cargo handling capability.
Port of Charleston
The South Carolina Ports Authority (SCPA) saw historic monthly container volumes at its Port of Charleston, with 206,541 TEUs handled in August, a 16% jump from August 2017.
"Fall is typically a seasonally strong time for our port, and while we look forward to continued growth through 2018, we will continue to monitor the potential for tariff negotiations to adversely impact containerized trade if prolonged or not otherwise resolved successfully," says SCPA president and CEO Jim Newsome.
Recently, US$49 million in funds were approved to deepen Charleston Harbor to 52 feet. In addition, Charleston's Wando Welch Terminal was completed in July, which includes six ship-to-shore (STS) cranes with 155 feet of lift height. By year's end, two additional similar cranes will become operational, with one additional crane to be delivered in late 2019 that can handle two 13,000 TEU or larger vessels simultaneously. At that time, capacity at Wando Terminal will increase by 700,000 TEUs.
All totaled, the terminal will offer 13 STS cranes, including nine cranes with 155 feet of lift height; 62 rubber-tired gantry cranes and 23 empty handlers; 3,800 feet of wharf, capable of handling three neo-Panamax ships; an enhanced traffic pattern and 40 gates, including 27 inbound and 13 outbound, for continued efficiency and low turn times; and a new 35-acre chassis yard for the proposed Southern States Chassis Pool.
Port of Savannah
The Georgia Ports Authority (GPA) handled a record 4.2 million TEUs in Fiscal Year 2018 (July 2017-June 2018), an 8.4% increase year-over-year, or 325,000 additional units.
In addition, intermodal rail lifts surged to 435,000, an increase of 16.1%, or more than 60,000 additional moves, another record for the GPA.
"The market's increasing recognition of Georgia as a rail hub for East Coast container trade reinforces our determination to double Savannah's on-terminal rail lift capacity," said GPA executive director Griff Lynch.

The Savannah Harbor Expansion Project is now half competed. Officials indicate that deepening the inner harbour should be complete by late 2021, allowing Neo-Panamax vessels to take on more cargo and transit the river with greater scheduling flexibility.
Construction of an US$8.8 million overpass was recently approved. The overpass is part of the US$127 million Mason Mega Rail project that, upon completion, will allow 10,000-foot unit trains to be built on terminal. This, along with other improvements, will increase Savannah's annual rail lift capacity to 1 million containers by 2020, thereby cutting transit time to markets such as Memphis, St. Louis, Chicago and Cincinnati by 24 hours.
In addition, GPA recently opened its Appalachian Regional Port, an inland rail terminal, which will improve container availability and reduce transportation costs for port customers in Georgia, Alabama, Tennessee and Kentucky.
Going forward, GPA is working on its US$2.5 billion 2028 Plan that will expand the capacity of the Port of Savannah from 5.5 million TEUs to 8 million. Key to the plan is the Mason Mega Rail facility, which will double the Port of Savannah's rail capacity to 1 million lifts per year by 2020; new equipment purchases including eight additional ship-to-shore cranes and 64 additional rubber-tired gantry cranes; gate and container storage expansions, berth improvements and off terminal road additions.
"We're preparing to redefine the Port of Savannah as not simply the load center for the Southeastern US, but as the port of choice for major inland markets east of the Mississippi River," Lynch said in a press release.
PortMiami
PortMiami reports that it has handled over 1 million TEUs for three years in a row, with an 11% increase in containerized cargo from Asia last year.
According to port director and CEO Juan Kuryla, China is the port's number one export country, having handed 43,180 TEUs in Fiscal Year 2017, and its number one import country, with 139,529 TEUs for the same period.
Benefiting big ships is the fact PortMiami is the only US east coast port south of Virginia with a deep channel at -50/-52 feet and the capability of handling fully-laden 10,000-14,000 TEU vessels. Among its recent accomplishments: new daily rail shuttle service with a capacity for up to 10,000 TEUs at Quality Inland Container Yard. In addition, Florida East Coast Railway (FECR) is building a 60-door cross dock facility adjacent to Miami International Airport that can serve as a potential retailers cross-dock facility, Kuryla says. Its completion date is November 2018.
By Karen E. Thuermer
Correspondent | Washington