CEVA AND GOODPACK ENTER INTO STRATEGIC ALLIANCE
November 7, 2018
CEVA Logistics and transportation and storage solutions specialist Goodpack will extend their long-term working relationship by entering into a strategic alliance.
According to CEVA, a key driver of the alliance is both companies' desire to provide advanced digitization and innovative solutions for the tyre industry. As part of the new alliance, the two companies have developed TYRECUBE, an intelligent returnable container for tyres with data acquisition and track and trace capabilities.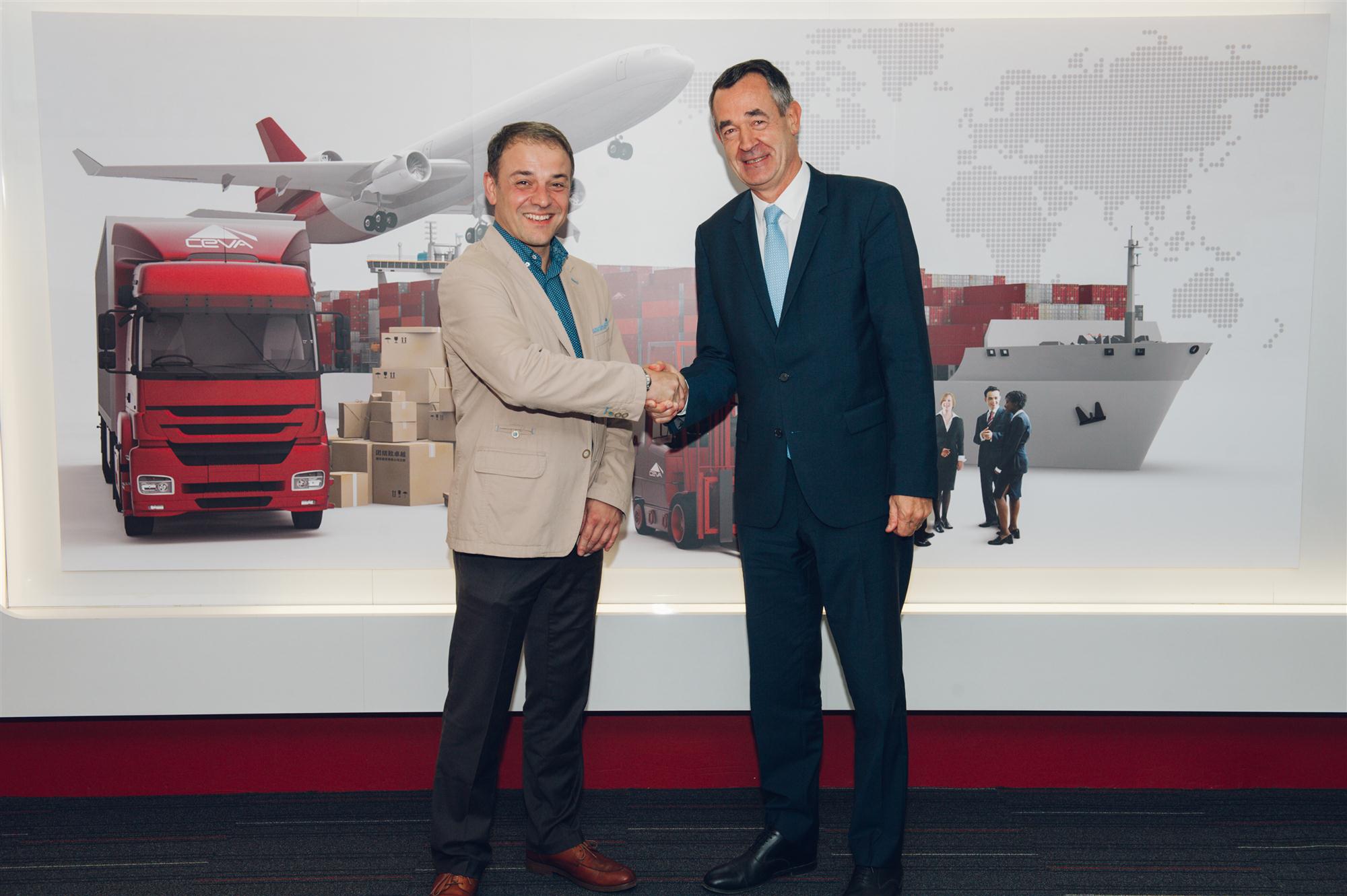 Through the introduction of TYRECUBE, CEVA Logistics and Goodpack aim to collaborate on developing strategies and services for the efficient and safe transportation and storage of tyres across Asia, North America, Europe and Australia.
"We believe that by working in close collaboration with Goodpack, we can develop TYRECUBE into the world's best global solution for the storage and movement of tyres," said Xavier Urbain [right in photo], CEO of CEVA Logistics. "The exciting part of this alliance is the scope it has for delivering across multiple vertical markets, from aviation through to passenger cars, motorbikes, trucks, off-road vehicles and industrial and agricultural equipment. We have the opportunity to revolutionize what is a traditional process by introducing a single, common container handling unit throughout the supply chain which will significantly improve process efficiency, product protection and visibility. We are convinced that this new innovative solution will bring a lot of value to the customers."
TYRECUBE is a patented collapsible and stackable container. By simplifying complicated movements characterized by short order-to-delivery cycles, the teams hope to deliver measurable value to the global tyre industry.
The loose loading of tyres has traditionally been a very labour-intensive and manual process, with minimal automation and little visibility. TYRECUBE helps avoid loose loading and provides a better protection of the tyres, and works for approximately 90% of all tyre types.
"We are very excited to form this partnership with a market-leader like CEVA Logistics Eric Grégoire [left in photo], CEO of Goodpack. "By bringing our core competencies together, we are proposing much-needed innovation for the tyre industry, enabling us to address some of its biggest issues, such as quality, traceability, workplace hygiene and ergonomics, and all at a lower cost. Together we will modernize this industry and bring it into the digital world by leveraging, sharing and pooling our assets within this alliance."