DFW COMMUNITY OBTAINS CEIV PHARMA CERTIFICATION
March 14, 2019
Key strategic logistics service providers within the community at Dallas Fort Worth International Airport have been achieved the International Air Transport Association's Center of Excellence for Independent Validators in Pharmaceutical Logistics certification.
DFW becomes the second airport in North America with a CEIV Pharma community, after Miami International Airport.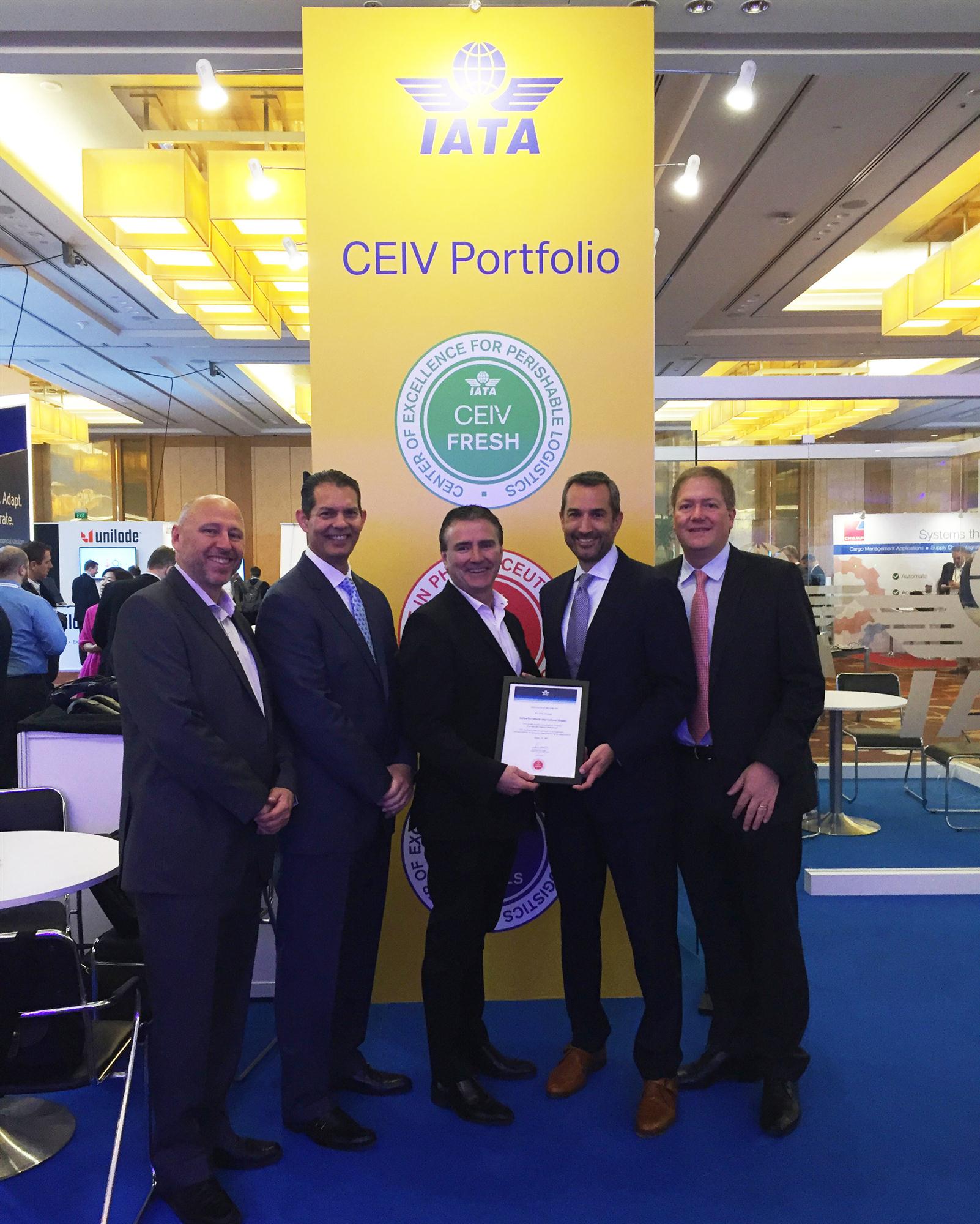 "The collective efforts of our partners to earn the CEIV community certification demonstrates DFW's level of commitment to a world-class pharmaceutical-handling operation that provides pharma manufacturers and shippers with confidence that their high-value products will be handled with quality, care and efficiency," said John Ackerman [second from right in photo], executive vice president of global strategy and development at DFW Airport. "The certification brings DFW one step closer to establishing a pharma gateway where manufacturers, shippers and other stakeholders can send their premium shipments and be assured that our processes will maintain product integrity."
DFW adopted a community approach for the certification process by assembling logistics partners in ground handling, trucking, cold storage/warehousing and freight forwarding, all representing essential links of the air cargo supply chain.
The founding members of the DFW CEIV community consist of dnata cargo USA, SCL Cold Chain, B.I.G. Logistics and Expeditors.
"We applaud DFW for its commitment to building a CEIV Pharma community through which it has met the industry's global quality standards that ensure pharma products will be handled in a safe and reliable manner," said Glyn Hughes [left in photo], global head of cargo at IATA. "By DFW's community obtaining CEIV Pharma certification, the number of organizations worldwide that are contributing to improve pharma handling across the aviation sector has increased. This is very positive."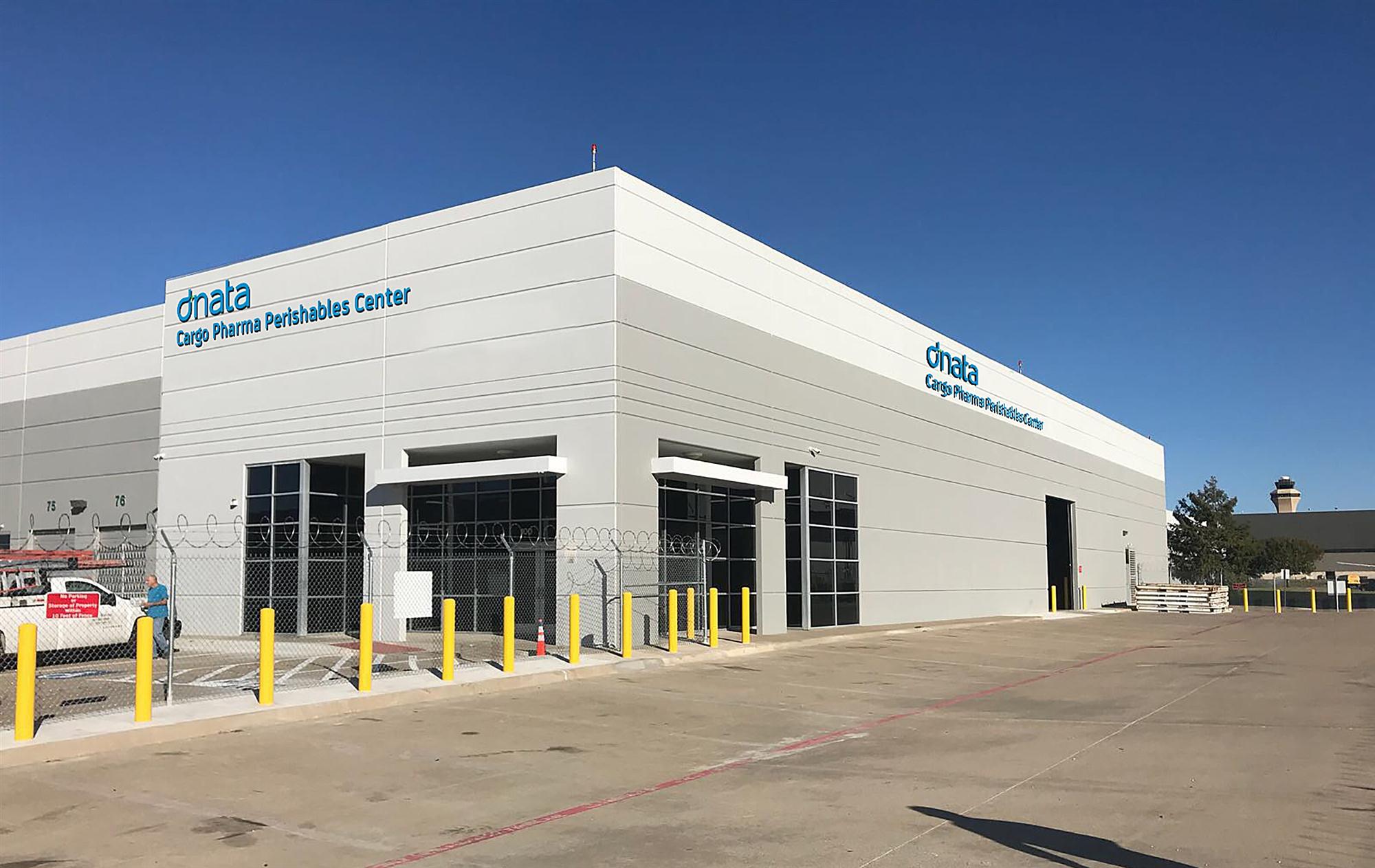 DFW's 37,000-square-foot cold chain facility is operated by dnata and opened in November 2017. It operates 24/7 and includes two dedicated pharma chambers, three multi-temperature zones and a 15,000-square-foot area for airside refrigeration. Additional features include a refrigerated dock with truck doors, dry cargo space to handle a variety of customer needs and a certified customs screening facility for imports and exports.
dnata handled over 500 tonnes of perishables in Dallas over the last 12 months.
"We are proud to be awarded IATA's prestigious CEIV certification at our new Dallas facility," said David Barker, chief executive officer of dnata USA. "This achievement demonstrates our commitment to meeting the highest industry standards and further strengthens our position as a global leader in perishable-cargo handling. We continue to invest in infrastructure and technology to deliver safe, quality and innovative services for our customers."
dnata has also been awarded the CEIV Pharma certification at its Amsterdam, Dubai, Singapore and Toronto facilities.
dnata commenced ground-handling and cargo operations in the US in 2016 and now serves 60 airlines at 28 airports in the country.
DFW, which is connected to every major US market within four hours by air, handled more than 826,000 tonnes of air freight in 2018.