HOGG RESIGNS AS CATHAY PACIFIC CEO
August 16, 2019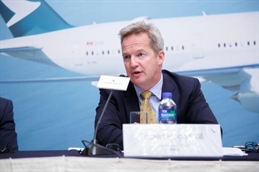 In a surprise move, Rupert Hogg, CEO of Cathay Pacific Airways, has resigned, along with Paul Loo, the carrier's chief customer and commercial officer. Hogg had been CEO since May 2017.
Cathay Pacific recently saw itself caught in a series of controversies surrounding staff members who had been involved in recent anti-government protests in Hong Kong. Although its freighter fleet was largely imune from protest action that affected Hong Kong International Airport at the start of this week, the cancellation of dozens of flights on Monday and Tuesday did impact bellyhold cargo operations.
"These have been challenging weeks for the airline and it is right that Paul and I take responsibility as leaders of the company," said Hogg. Augustus Tang has been named as the new CEO, with Ronald Lam appointed as the new chief customer and commercial officer.