STARLUX TO START FLYING JAN. 2020
September 9, 2019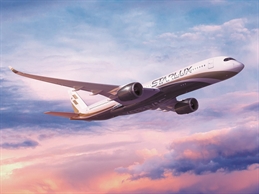 Taiwan's newest airline, Starlux, is gearing to start its operations early next year as it recently unveiled its inaugural A321neo aircraft that recently completed tail painting.
The Taipei-based carrier also welcomed its second batch of pilot trainees, who graduated from a flight training program in the United States.
Starlux spokesperson Nieh Kuo-wei said the carrier plans to launch its maiden flight on Jan. 23, 2020  with inaugural destinations including Macau (China), Danang (Vietnam), Penang (Malaysia), although the schedules will be finalized this month.
The carrier is also considering its next batch of destinations, which could include Bangkok (Thailand) and Cebu (Philippines).
Earlier, Chang Kuo-wei, Starlux CEO and former chairman of EVA Airlines, said the airline will offer at least once a day flight to Macao, Da Nang, and Penang with more to be added throughout the year.
Starlux is set to receive three new narrow-body Airbus A321neo aircrafts with the first one set to be delivered by November. The second and third aircraft will be received in December and January, respectively to fly the initial routes planned.

Another seven aircraft – all from European planemaker Airbus – will be added to its fleet. These would include five A350-900s expected to be delivered through 2020 and 12 A350-1000s by 2021 as Starlux eventually plans to expand routes to North America in 2022. By end-2024, the airline is expected to have up to 27 aircraft serving over 20 destinations in Asia and North America.
Starlux Airlines was launched in 2017 with a slogan "Born with luxury. Shining like the stars."