SF AIRLINES ADDS ROUTES TO BANGLADESH
September 11, 2019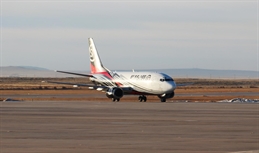 Chinese air freight operator SF Airlines has added a new cargo service between Changsha in China and Dacca, Bangladesh to service the growing demand for general cargo and fresh produce between the two cities.
The Shenzhen-based airline said its maiden freighter B757-200 flight took off on August 5 between Changsha and Dacca, signaling the official launch of the fourth international air route served by SF Airlines this year. This will also be the third direct freight route between China and Dacca operated by SF Airlines with Kunming and Nanning to  Dacca earlier launched.
"Targeting mainly at general cargo and fresh products, the new route will help stimulate the trading between Central China and Bangladesh and facilitate the in-depth development of the country's 'Belt and Road' Initiative once it is operated on a regular basis," said SF Airlines.
Since its first flight in 2009, SF Airlines has developed an air freight network to more than 60 cities and regions while being based in Shenzhen, Hangzhou, and Beijing in China. 

"The launch of Changsha-Dacca air route will further increase the flight frequency of air freight routes between Changsha and 'Belt and Road' cities, and improve the air logistics efficiency between Changsha and Bangladesh," the carrier said.
SF Airlines has the largest freighter fleet size in China with at least 55 cargo planes in service.