SF AIRLINES BEGINS EUROPE SERVICE
September 18, 2019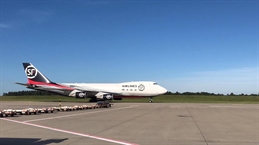 Chinese air freight operator SF Airlines recently launched its first flight to Europe, marking the official launch of SF Airlines' first intercontinental air freight route.
In a statement, the Shenzhen-based airline said the B747-400ERF aircraft took off from Wuxi and successfully landed at Frankfurt–Hahn Airport, Germany on September 15 after a stopover at Chongqing.
The "Wuxi-Chongqing-Frankfurt Hahn-Wuxi" route has been the longest one operated by SF Airlines so far with flight mileage of 9,540 km (5,927 miles).
SF Airlines said the B747-400ERF aircraft, the largest aircraft model of SF Airlines by now, with a maximum payload of 110 tons will accommodate cargo loaded in Wuxi, Chongqing, and Hahn — serving to connect East China, West China and Hahn, a critical air freight distribution hub of Europe.
The air freight operator, which has the largest freighter fleet size in China,  said the flight features a simplified flight approval procedure, an optimized transit regulation process, and a highly efficient, orderly customs clearance service.
After the Wuxi-Chongqing-Frankfurt Hahn-Wuxi operation is normalized, the new route is expected to transport more than 600 tons of shipments from mainland China to Europe.
"It is expected to build a stable air logistics channel between China and Europe for manufacturing and business trading enterprises in Wuxi, Chongqing, and surrounding areas, further facilitate the building of the modern air logistics system of Wuxi and Chongqing and promote local foreign trade businesses," SF Airlines said.
SF Airlines is a cargo airline company that has the largest fleet size in China. It has 57 all-cargo aircraft in service, flying to more than 60 cities and regions at home and abroad.