HK AIRLINES HALTS MORE FLIGHTS AS REGULATOR WARNS REVOCATION OF LICENSE
December 2, 2019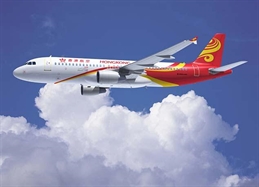 Hong Kong Airlines has announced that more flight services will be discontinued starting next year as the carrier said it will focus on "priority routes" to mitigate ongoing market challenges in Hong Kong.
In a statement, the Hong Kong-based airline said it will further adjust its network and halt its direct Vancouver service starting February 12, with the last operating flight to depart on February 10. The carrier will also suspend its flights to Ho Chi Minh City in Vietnam from February 20, as well as its service to Tianjin, China from February 10, 2020.
"Hong Kong Airlines has been reviewing its network strategy and will continue to focus on operating priority routes under the challenging business environment caused by the ongoing social unrest in Hong Kong," the airline said.
"While the airline has already reduced its capacity and flights in the coming months, weak travel demand continues to affect its business and revenue. To mitigate the impact from the current situation, Hong Kong Airlines will further adjust its network," it added.
Hong Kong Airlines, which has been facing financial woes, announced in November that it will also discontinue its scheduled services to Los Angeles starting February 8, 2020, as air traffic continues to weaken in Hong Kong.
More service adjustments seen
Aside from the flight adjustments, Hong Kong Airlines also said it will continue to adjust its frequencies to other destinations according to changing market demands. 
"Hong Kong Airlines would like to apologise for the inconvenience caused to its customers. Alternative travel arrangements will be offered to passengers who are holding confirmed tickets on Hong Kong Airlines flights to and from Vancouver, Ho Chi Minh City and Tianjin after these services end," the airline explained.
The carrier further said that passengers who are impacted by other flight cancellations will also be offered alternative arrangements to minimise disruptions to their travel plans, especially during the holiday season.
Ultimatum from the airline regulator

In a related update, embattled Hong Kong Airlines was also given an ultimatum by the Hong Kong Air Transport Licensing Authority (ATLA), to improve its fiscal position in the light of the ongoing financial problems of the airline.

"ATLA has been closely monitoring the financial situation of the airline over a long period of time and has repeatedly asked HKA to submit financial improvement plans," the regulator said.
"Having considered the latest financial position of HKA, ATLA was of the view that HKA's financial position has deteriorated rapidly to such an extent that has severely impacted on HKA's capability in meeting its obligations as an employer to pay salary and the probability of providing a satisfactory service under its licence in respect of continuity and regularity of operation. ATLA found the situation extremely worrying," it added.
After careful deliberation, ATLA said it decided to attach new conditions to HKA's licence:
 HKA must, by a deadline set, ensure cash injection at a level determined by ATLA;

raise and maintain its cash and cash equivalent level as stipulated by ATLA


"If HKA fails to improve its financial situation as required by ATLA by the deadline, ATLA will take further action, which provides for revocation or suspension of licence," ALTA added, noting that it would announce its decision by December 7.
The carrier has blamed the ongoing political unrest in Hong Kong for the slowdown in its traffic which has affected its financial standing.