SC PORTS CEO TO BE INDUCTED INTO INT'L MARITIME HALL OF FAME
January 31, 2020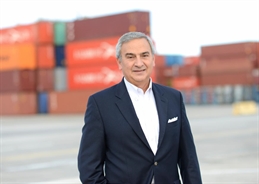 Jim Newsome, South Carolina Ports Authority president and CEO, is set to be inducted as into the 2020 International Maritime Hall of Fame.
The Maritime Association of the Port of New York and New Jersey named Newsome as one of the five global shipping leaders to be inducted into the International Maritime Hall of Fame this year set to be honored during the 27th annual awards dinner on 13 May in New York City.
Newsome has served as president and CEO of S.C. Ports for the past decade where he has successfully pursued vital infrastructure projects, significantly grown port operations and doubled cargo volumes, ensuring that the Port of Charleston remains globally competitive and a top 10 container port in the US.
"Jim leads S.C. Ports with great vision, decisiveness and enthusiasm," said Barbara Melvin, S.C. Ports COO. 
"Our Port has grown immensely under his leadership, leading to job creation and economic growth around the state."
Newsome is the longest serving head of a major container port in the US. Prior to assuming his role at the S.C. Ports Authority in 2009, he was the president of Hapag-Lloyd (America) Inc. (1997) and was with Nedlloyd Lines from 1987 to 1997.
The other 2020 inductees in the hall of fame are:
Lisa Lutoff-Perlo, president and CEO, Celebrity Cruises Inc., Miami, Florida

James R. Mara, president emeritus, Metropolitan Marine Maintenance Contractors' Association, Rutherford, N.J.

Dr. Nikolas P. Tsakos, president and CEO, Tsakos Energy Navigation Corp., Athens, Greece

Lois K. Zabrocky, president and CEO, International Seaways Inc., New York City
Edward Kelly, the maritime association's executive director, said inductees had "won the respect of the international shipping community based on their successes and professionalism."
"These industry leaders represent a broad spectrum of the global shipping industry and are deserving of this distinguished honor," Kelly said.