AIRBRIDGECARGO TRANSPORTS LARGEST JET ENGINE
January 31, 2020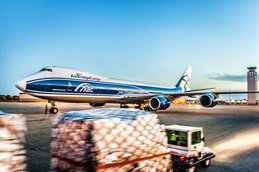 AirBridgeCargo Airlines (ABC) has recently announced that it successfully transported the world's largest jet engine onboard its Boeing 747-8 freighter.
GE9X – GE Aviation's newly developed engine for what will be the world's largest and most efficient twin-engine jet, the Boeing 777X, weighs 11,545 kg.
The B-777X aircraft, powered by the GE9X successfully completed its maiden flight at the beginning of this year.
ABC said the engine was loaded in seven minutes through the side cargo door of the aircraft. Offloading the GE9X took less than 10 minutes while moving the engine from delivery truck to a pallet lasted for about 30 minutes.
"We are proud to be a part of the GE9X transportation development. We appreciate the vote of confidence and look forward to supporting GE Aviation further," said Fedor Novikov, deputy general director of AirbridgeCargo.