HONG KONG CARGO VOLUME DECLINES 6.1% IN 2019
February 3, 2020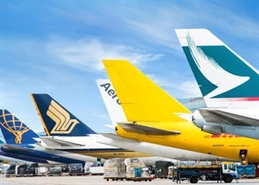 The Hong Kong Airport Authority has announced that cargo throughput continued to drop last year, still due to the "challenging business environment."
Hong Kong International Airport (HKIA) handled 4.8 million tonnes of cargo in 2019, representing a declined 6.1% year on year.

Though in December, cargo throughput decreased slightly by 1% to 443,000 tonnes compared to December 2018 level.
Despite the slowdown, exports recorded a 3% year-on-year increase in December 2019 while imports and transshipments both remained weak.
HKIA said key trading regions where Europe, India and Japan, which contributed the most growth.
Vivian Cheung, executive director of Airport Operations for the Airport Authority, described 2019 as a "challenging year."
In terms of passengers, Hong Kong saw 71.5 million passengers and 419,730 flight movements in 2019. The figures represent decreases of 4.2% in passenger volume and 1.9% in flight movements, respectively, compared to 2018.
HKIA registered 33,990 flight movements in December 2019, an 8.4% year-on-year decrease as passenger volume declined 12.5% to 5.7 million.
HKIA said passenger volume continued to be affected by weak visitor traffic in December 2019.
"Passenger figures to and from Mainland China and Southeast Asia experienced the most significant decreases during the month. However, transfer / transit traffic and Hong Kong resident travel registered strong year-on-year growth of 14% and 9%, respectively," it added.