PORT OF LA SAW VOLUMES DECLINE 5.4% IN JANUARY
February 7, 2020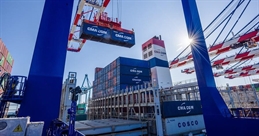 The Port of Los Angeles reported softer volumes in January which it attributed to the ongoing trade war and the new risks brought by the coronavirus outbreak.
In a statement, Port of Los Angeles said it 
moved 806,144 Twenty-Foot Equivalent Units (TEUs) in January, a 5.4% decrease compared to last year. 
"We anticipated that tariffs would continue to impact cargo volumes as we moved into 2020, and our January volumes reflect that ongoing trend," said Gene Seroka, 

Port of Los Angeles executive director.
"The coronavirus, which prompted China's Central Government to extend the Lunar New Year holiday, adds a new layer of uncertainty to global trade. The Port of Los Angeles is committed to ongoing collaboration with our customers and supply chain partners to innovate and adapt to new trade patterns," he added.
January imports decreased 3.5% to 414,731 TEUs compared to the previous year.
After 14 months of consecutive declines due to tariffs on U.S. goods, exports increased 2.2% to 148,206 TEUs. Empty containers declined 12.4% to 243,207 TEUs. In total, January volumes totaled 806,144 TEUs.