SWISS WORLDCARGO EXPANDS JAPAN CAPACITY
February 7, 2020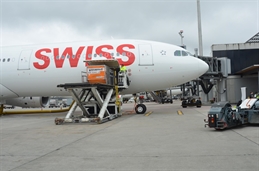 Swiss WorldCargo, the airfreight division of Swiss International Air Lines, is expanding its network by adding direct Zurich to Osaka flights to its existing daily Boeing 777-300 operations between Zurich and Tokyo. 
As of March 1, the non-stop Airbus A340-300 service between Zurich and Osaka will enhance the connection between Japanese and Swiss markets and enable optimal connections to the entire Swiss WorldCargo network. 
For the winter 2020 schedule, the Zurcih-Osaka service will be operated Monday, Wednesday, Friday, Saturday and Sunday while the Osaka-Zurich on a Monday, Tuesday, Thursday, Saturday and Sunday schedule.
For the summer 2020 ⁠— beginning March 27 ⁠— the Zurich – Osaka route will operate Monday, Wednesday, Friday, Saturday and Sunday, while the Osaka-Zurich service will have a Monday, Tuesday, Friday, Saturday and Sunday schedule.
"With this new connection, Swiss WorldCargo offers enhanced opportunities for tail-to-tail transfers, as well as connections to major intercontinental destinations," it said in a statement.
"Additionally, an extensive trucking/RFS network allows additional opportunities for transfer destinations. "
Head of Kansai region appointed
The local handling agent assigned in Osaka is ANA Cargo Inc., located at Kansai International Airport. Tango Tomonari, based in Tokyo, will be responsible for the entire Swiss WorldCargo team in Japan.
Jun Nakatani has been newly appointed as Head of Kansai Region. 
Since 1 February, Swiss WorldCargo also operates a Boeing 777-300ER on its daily non-stop flight to Tokyo Narita Airport. This change in aircraft offers an increase in capacity of up to 40% on the Zurich-Tokyo lane.
"We are proud to be able to continue to play an important role in the Japanese airfreight market, and to meet the high expectations of our customers" said Alexander Arafa, head of global area & contribution management, Swiss WorldCargo.
"Our increase in capacity to Tokyo, as well as our new service to Osaka, offers a key way in which we can continue to connect one of the Far East's most important pharmaceutical and technological goods markets with Switzerland."