TURKISH LAUNCHES DIRECT FREIGHTER SERVICE TO AUSTRIA
March 24, 2020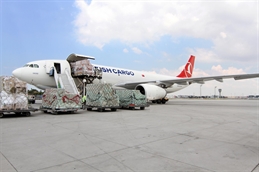 Turkish Cargo said it is launching direct freighter flights to Linz, Austria increasing the number of its direct cargo flight network worldwide.
In a statement, the cargo division of national flag-carrier Turkish Airlines said having an attractive location in terms of logistics and trading companies, Linz will become the 90th direct cargo destination of Turkish Cargo.
The first of the Linz flights, which will be operated by Turkish Cargo for 2 days a week (Thursdays and Sundays) using its Airbus 330 and B777F airplanes, to be operated on the Istanbul Airport - Billund Airport (Denmark) - Linz Airport route on April 2.
"Linz stands as a key industrial city of Austria which is located at the junction point of Europe and enjoys very advanced shipping and transportation capabilities," Turkish Cargo said, adding that it is the only air cargo brand that operates scheduled cargo flights to Linz, its second cargo destination in Austria, following Vienna.
The Linz destination, Turkish said, is not only a key city in terms of culture and tourism, but it also shines with its export potential and is called as the industrial region of Austria.
Turkish Cargo aims to operate flights to 120 direct cargo destinations in 2023.
Turkish Cargo operates with its fleet of 361 aircraft, 25 of which are freighters, at its hub in Istanbul. It arranges air cargo operations to more than 300 destinations, 90 of which are the cargo destinations, in 127 countries around the world.