U-FREIGHT NAMES OPERATIONS DIRECTOR FOR UK SUBSIDIARY
April 14, 2020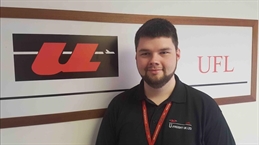 As part of a strengthening of its team in the UK, the U-Freight Group named Daniel Ludlow as operations director of U-Freight UK, its subsidiary in the United Kingdom.
Ludlow started his career in the freight industry as a trainee export clerk with U-Freight UK in 2006, then worked in the freight forwarder's import department, before becoming an export supervisor.

Rapid career progression resulted from his commitment and dedication, and he was named operations manager in April 2018.

U-Freight UK managing director, Greg Easterbrook comments: "Over the last 14 years, Daniel has shown clear evidence of his operational, commercial and personnel management capabilities.

"I am confident that in his new role as operations director he will rise to the challenges that the COVID-19 pandemic is having on our business, and drive forward U-Freight's business in the UK," Easterbrook added.