MSC HANDLES FIRST EVER SHIPMENT OF AVOCADOS FROM COLOMBIA TO CHINA
June 22, 2020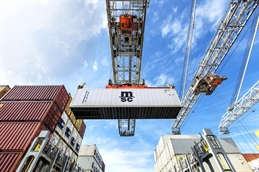 MSC Mediterranean Shipping Company has announced it is moving the first-ever shipment of avocados from Colombia to China as it expands its refrigerated cargo capabilities. 
The Swiss-Italian shipping line said the shipment of fresh avocados was loaded from the Port of Buenaventura on May 28 and is being shipped on MSC's Aztec service, with an expected arrival date of June 29 in Shanghai.

This first-ever shipment follows the signing of a 'memorandum of agreement on avocado exports to China' during a state visit by the Colombian President to China last July.
Colombia is now the fourth-largest producer of the Hass variety of avocados worldwide.
MSC said it is proud to be supporting this milestone shipment of avocados from Colombia to China for Mr. Avocado, a Chinese supplier of ready-to-eat avocados.
"Transporting perishables such as fruits and vegetables require a high level of care and expertise, and we are delighted that Mr. Avocado has placed their trust in us for this inaugural shipment," said Jonathan Zhu, managing director for MSC Greater China. 
In recent years, demand for avocado has grown quickly in China. Chinese customs data showed that avocado imports grew by 34.4% from 32,000 tonnes in 2017 to 43,000 tonnes in 2018. 
Growing trade between Colombia and China

Bilateral trade between Colombia and China has been growing in recent years. China has become Colombia's second-largest trading partner, and Colombia is China's fifth-largest trading partner in Latin America. Bilateral trade volume reached US$14.6 billion in 2018, an increase of 29.2% year-on-year, according to Chinese customs data.
Meanwhile, MSC noted that it has been facilitating the flow of goods from Latin America to China with its comprehensive global network.
The main imports MSC has been shipping from Latin America to China include meat (pork, beef, lamb), bananas, seafood (fish, shrimps and crabs), as well as other commodities such as cotton, paper and pulp, and timber.

"A significant amount of imports from Latin America are refrigerated food cargo. With our mature network in China, we are able to support refrigerated container transportation to a wide range of coastal ports and inland destinations, enabling these food products to reach consumers across China," Zhu added.

Shipping refrigerated cargo 

Globally, MSC has shipped over 1.8 million TEU of reefer (refrigerated) containers in 2019, and over the years, the company has developed a team of over 1,000 reefer experts around the world who can provide guidance to customers through every step of their shipments.

To meet the growing international demand for reefer cargo services, MSC said it has continually invested in the best-refrigerated transport solutions like the additional 5,000 Star Cool units using Controlled Atmosphere (CA) technology which it announced last February. 
CA, it noted, is an active process to regulate atmosphere composition to extend the shelf-life, maintain the appearance, freshness and quality of perishable products such as apples, avocados and bananas.