CARGOLUX AND UNILODE EXTEND PARTNERSHIP WITH DIGITALIZATION MOVE
June 23, 2020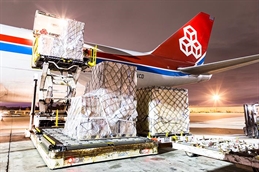 Cargolux Airlines and Unilode Aviation Solutions have announced that they have further extended their partnership with the expansion into digitalization meant to optimize processes in the distribution chain. 
The cargo airline said in addition to the current provision of ULDs and related repair and maintenance services, Unilode and Cargolux are now going one step further in the digitalization process.
After equipping its units with Bluetooth tracking tags, Unilode is also installing Bluetooth readers at all warehouses operated by its customers.
Once these readers are installed, there will be digital visibility over ULDs offering further transparency and enhanced tracking for shipments through the interoperability of the reader infrastructure.
Cargolux said the new agreement broadens the scope of cooperation between the two parties to ensure air cargo customers have access to premium transport and handling solutions to match their requirements.
"These integrated and smart systems will render the handling process smoother and more efficient while offering Cargolux's customers increased peace of mind. This innovative approach will serve to optimize processes in the distribution chain and contribute to the smooth movement of shipments from origin to destination and is a great step forward when it comes to digitalization and performance in the air cargo industry," the cargo airline noted.
According to Franco Nanna, Cargolux's director Global Logistics Services Cargolux has grown significantly since starting its partnership with Unilode over ten years ago.
"Unilode's investment into digitalization will benefit the value chain, and especially the cumbersome and time-consuming work done by ground handlers and freight forwarders to manually list and count single ULD references via numerous message and email exchanges will drastically be reduced. This is fundamental to further improve the efficiency of ULD processing," Nana said.
Benoît Dumont, Unilode CEO, said: "Digitalisation will add further value to our strategic ULD management partnership and Unilode's digital ULDs will be able to provide significant benefits to Cargolux and its customers in the global supply chain, especially due to the location and temperature monitoring features of our digital assets."