ALIBABA'S CAINIAO TO QUADRUPLE AIR CHARTER OPERATIONS IN 9 MONTHS
June 29, 2020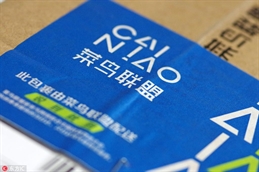 Cainiao Smart Logistics Network, Alibaba's logistics arm, said it plans to expand its global logistics network and reduce delivery times over the next three years.
The company said it will increase chartered flights from 260 to 1260 over the next nine months to reduce the average international airfreight delivery time.
New delivery time will now be between five and three days from seven and 10 days.
Cainiao said the move brings the logistics arm closer to Alibaba's target to fulfil deliveries within 24 hours in China and 72 hours globally.
The company said it will also double the floor space of its overseas warehouses to 2 million square meters.
The expanded capacity, it noted, as well as Cainiao's close partnerships with over 30 customs-clearance facilities, are set to help expedite the 30 million China-bound goods that are processed by the logistics platform every day.
"Small and medium-sized businesses will also be able to leverage the additional warehouse space to pre-stock their products for export and fulfil their orders faster. Per the platform's estimates, this would ensure that 90% of orders shipped from China will arrive in less than 72 hours to some 100 cities globally," it added.
Digitizing the last mile
To enhance its last-mile services, the logistics arm of Alibaba said it also plans to open 30,000 additional Cainiao Post stations across 100 Chinese cities to enable contactless mailing and collection of parcels, e-shipping labels that allow consumers to keep track of their shipments in real-time and autonomous vehicles that bring parcels directly to their doorsteps.
"We see immense opportunities in the area of last-mile innovation, from order fulfilment to delivery models and value-added services that will truly digitize communities and offer greater convenience and security," said Wan Lin, Cainiao President. 
In the past, Alibaba's logistics arm has utilized Atran and Avistar-TU to carry out its flights.