HKIA PUSHES THROUGH WITH INFRA PROJECTS DESPITE COVID-19
June 30, 2020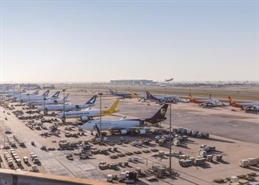 Airport Authority Hong Kong (AA) said the gateway is pursuing its long-term plans for the regional hub which includes various infrastructure projects despite the coronavirus outbreak which has been impacting the aviation industry.
The Airport Authority noted that the fiscal year ended 31 March 2020, was a challenging year for Hong Kong International Airport (HKIA) with the negative impact of the COVID-19.
It said passenger volume and flight movement dropped 18.9% and 12% to 60.9 million and 377,420 respectively, while cargo volume was also hit by international trade dispute in 2019/20, registering a year-on-year drop of 7.3% to 4.7 million tonnes.
As the airport responded to the pandemic to ensure the safety of passengers and airport staff. The AA also pushed through with various airport developments meant to upgrade the gateway.
"The COVID-19 pandemic has not distracted the AA from the long-term vision," it said.
The Airport Authority noted that during the year, the Airport City development continued and significant progress on all projects was achieved. The construction of the Three-runway System (3RS) was progressing as planned, with the third runway on track to start service in 2022, and the entire 3RS project, which includes new buildings and related infrastructure, is expected to be commissioned in 2024.
As part of the 3RS project, Terminal 2 (T2) was closed for refurbishment in November 2019. When it reopens in 2024, T2 will offer a full complement of services for arriving and departing passengers. Meanwhile, to tie in seamlessly with the T2 closure, the extension to T1 was commissioned with a new aisle of 48 check-in counters and two additional baggage reclaim carousels.
Among others, the airport is also developing a biometric system that enables passengers to check-in at a smart check-in kiosk and then use their biometric features to clear multiple pre-boarding checkpoints. This service is expected to commence in 2020.
On the cargo front, the construction of the premium logistics centre in the South Cargo Precinct started during the year.
Scheduled to open in 2023, the Airport Authority said the logistic centre will help HKIA and its business partners capture opportunities in the rapidly expanding e-commerce market.
In addition, HKIA further enhanced its high-value cargo service, including animal handling service.
In January 2019, HKIA and Brussels Airport, in partnership with a group of global pharmaceutical companies, pioneered the world's first airport-to-airport pharma corridor.