MEXICAN FLAGSHIP CARRIER FILES FOR BANKRUPTCY
July 2, 2020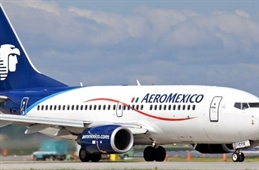 Aeromexico, Mexico's oldest legacy airline, recently filed for bankruptcy protection in the United States, making it the latest carrier toppled over by the impact of the coronavirus pandemic.
Mexico's flagship airline said on June 30 that it applied for Chapter 11 restructuring, which will allow the carrier to continue flying while its debt obligations are being sorted out.
"Our industry faces unprecedented challenges due to significant declines in demand for air transportation," said Andrés Conesa, Aeromexico CEO.
"We are committed to taking the necessary measures so that we can operate effectively in this new landscape and be well prepared for a successful future when the Covid-19 pandemic is behind us."
The airline stressed that the "legal process will not interrupt the airline's operations" and that all tickets and reservations, among others, would continue to be honoured.
Aeromexico, like many carriers across the world, suffered the brunt of the coronavirus pandemic as global lockdown measures brought air travel to a standstill. 
"The COVID-19 pandemic has had an unprecedented impact on the global economy and travel industry ... many leading airlines throughout the world have used Chapter 11 to strengthen their financial position, and they continue to be solid companies that serve passengers across the world now. That is what we intend to do," Aeromexico added.