SCHIPHOL CARGO DOWN AS FREIGHTERS UNABLE TO REPLACE BELLY TRAFFIC
July 23, 2020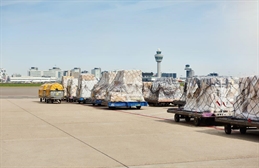 Cargo volume at the Amsterdam Airport Schiphol dropped in the first half of the year as the increase in freighter flights was unable to offset the lost volume due to cancelled passenger flights as the coronavirus continue to drag air travel.
The Dutch airport said cargo volumes at the hub declined by 14.5% to 655,942 tonnes compared to the same period in 2019.
Full freighter flights during the period were up 48.1% to 10,274 Air Transport Movements (ATM) from January to June, but the number of belly flights dropped by 51.6%  to 105,665 ATMs compared to the first half of the year in 2019.
Full freighter volumes up, belly cargo down
"Amsterdam Airport Schiphol's total cargo volume for the first half of 2020 declined ... as an increase in full freighter cargo did not make up for the decline in belly traffic," Schiphol said in a statement.
In the first half of 2020, full freighter volume increased by 12.4% to 463,679 tonnes, while belly cargo volumes dropped 45.9% to 192,264 tonnes.
Inbound cargo volumes also declined by 11.5%  to 341,130 tonnes and outbound cargo volumes were down 17.6% to 314,812 tonnes.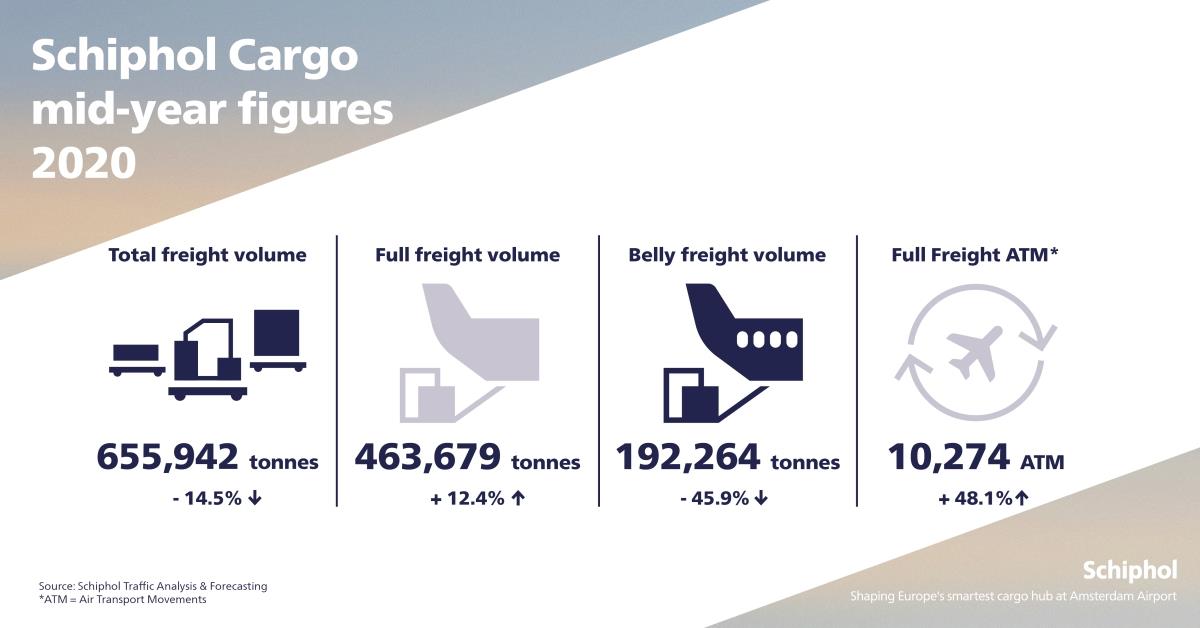 "Schiphol's figures and operations were heavily impacted by the Covid-19 outbreak, and from early this year, the decline in passenger aircraft led to a decrease in belly volumes," said Bart Pouwels, head of cargo, Amsterdam Airport Schiphol.
Signs of recovery cited
"ATMs are now showing signs of recovery which is positive. The extra belly capacity on intercontinental routes helps the air cargo market in Amsterdam to better serve its customers," he added.
Schiphol noted that every cargo market saw declines in the first half of the year as all regions were heavily impacted by the Covid-19 pandemic.
Inbound cargo to North America was down 17.1% and outbound by 17.7%. In Europe, the inbound cargo was down slightly by 3%, but outbound fell by 23.5%.
Declines across regions
Schiphol said it's biggest market, Asia, saw declines, as inbound was down 8.1% to 121,008 tonnes and outbound declined 17.5%  to 107,735 tonnes — with Shanghai remaining to be the biggest single market destination from January to June.
Schiphol noted that the Middle East region showed the only growth sector as inbound was up 9.2% although outbound figures declined by 11.7%.
The Latin America market's inbound volume fell 21.8% and outbound was down 14.6%.
Inbound to Africa was also down by 29.5% and outbound by 22.3%, driven by a decrease in the import and exports of flowers.
Impact of COVID-19

"Schiphol was affected by Covid-19 from early this year and it led to a steep decline in overall ATMs in the first six months of 2020," the airport statement said.
At the lowest point in April, Schiphol was averaging about 144 ATMs per day every week, a 90% decline in ATMs in 2019.

"The Covid-19 pandemic has also led to a shift in cargo flows and some usually high-volume verticals have decreased, such as the import and export of flowers," said Pouwels.
Future remains uncertain, but demand picking-up


The future is uncertain at Schiphol as markets around the globe are at different stages of the Covid-19 pandemic.
"We are seeing passenger flights increasing which means an increase in belly capacity, but it is important we move along with customer needs and make sure all demands are accommodated as well as possible," said Maaike van der Windt, director Aviation Marketing, Cargo and Customer Experience, Amsterdam Airport Schiphol.

"We hope to continue to welcome increasing demand of our airlines and to see more routes and frequencies added to our network again," he added.