ANCHORAGE AIRPORT REPORTS RECORD CARGO VOLUMES IN Q2
July 28, 2020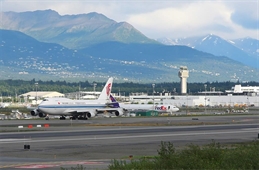 Ted Stevens Anchorage International Airport (ANC) saw cargo volumes handled in the second quarter grow 14.5% year-on-year to 900,000 tons as a result of the loss of transpacific passenger flights.
Its latest performance topped an earlier quarterly record of 824,000 tons seen in the fourth quarter of 2017.
For the first half of 2020, ANC saw a 7.38% increase in cargo year-on-year, at 1.5 million tons.
The airport is often used for technical stops by freighters loaded with as much cargo as possible, while the integrators also use the airport as a hub.
"The decimation of trans-Pacific passenger traffic caused by the COVID-19 pandemic has displaced literally hundreds of thousands of tons of air cargo that used to fly in the bellies of passenger planes," said Jim Szczesniak, airport manager.
"ANC is the center of the air cargo world and perfectly situated to capture the increased demand for air freighters. Our air cargo partners recognize the economic benefits and efficiencies that ANC has to offer."
The sixth-busiest cargo hub in the world saw widebody freighter traffic increased by nearly 9% this year with an average weekly increase of 26.75% since the beginning of April.
Recently, this publication named ANC a finalist for Best Air Cargo Airport in North America.