COVID-19 CONTINUED TO DRAG AIR CARGO VOLUME AT HKIA IN JUNE
July 31, 2020
The Hong Kong Airport Authority has announced that cargo throughput continued to drop in June, dragged by the impact of the on-going effects of the COVID-19 pandemic on global air travel.
Hong Kong International Airport (HKIA, the world's busiest airfreight hub, saw cargo throughput last month declined by 7.7% to 357,000 tonnes compared to the same month last year.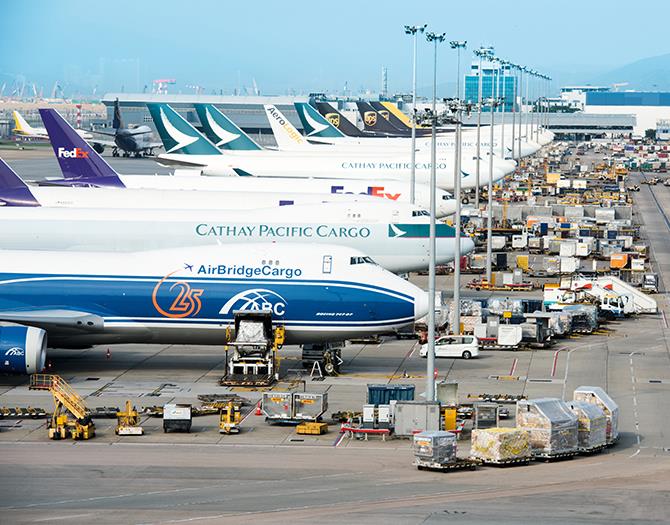 "The drop in cargo throughput was mainly attributed to the decline in transhipments resulting from reduced belly capacity on passenger flights. Cargo throughput to and from Mainland China and Southeast Asia saw the most significant decreases in June," HKIA said in a statement.
It noted, however, that with demand for air cargo services remaining relatively strong, freighter movements increased by 23.1% compared to the same month last year.
North America records highest growth
Cargo exports also recorded a year-on-year increase of 7%, with North American markets recording the most significant growth.
In terms of passenger volumes, the airport recorded year-on-year decreases in passengers and flight movements of 99.1% and 71.8% to 59,000 and 9,945, respectively.
Due to the continuation of entry restrictions for non-Hong Kong residents, visitor traffic decreased by more than 99%.
"The gradual resumption of transfer/ transit services brought some transfer/ transit passenger traffic to HKIA, yet demand was still weak and the transfer/ transit traffic in June decreased by almost 100% year on year. Hong Kong resident travel decreased by 98% year on year," the Airport Authority said. 
Over the first half of the year, HKIA handled 2.1 million tonnes of cargo, down 10.2% year-on-year. Passenger volume was recorded at 8.3 million, dropping by 78.1% and there were 94,120 flight movements recorded or a decline of 55.8%.
On a 12-month rolling basis, HKIA saw cargo throughput fell 7.7% to 4.6 million tonnes.