DHL ADDS NEW LIFE SCIENCES FACILITY IN THE US
July 31, 2020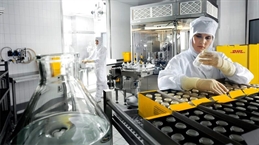 DHL Global Forwarding has opened a new US$1.6m facility in Indianapolis, Indiana as it continues to expand its life sciences operation.
DHL said the facility has 20,000 square-feet of dedicated perishable handling warehouse space. 
The building contains three temperature-controlled chambers 15-25Celcius storage and handling. 2-8Celcius storage and handling and -20Celcius storage and handling — that together measure close to 20,000 square feet.
The temperature-controlled areas were built with variable temperature capabilities to process any pharmaceutical, biotech or medical devices that require a temperature-controlled environment.
"This new DHL Global Forwarding building is a testament to our mission — connecting people, improving lives — and expands our global network for the life sciences and healthcare sector. This is especially important now during these challenging times when temperature-controlled logistics is crucial in helping customers navigate the pandemic," said David Goldberg, chief executive of DHL Global Forwarding-US.
"It is also a culmination of a meticulously planned facility that will further solidify our market leadership position in the logistics industry, and will offer all the necessary features and services to help our customers grow – especially in the life sciences and healthcare field," he added.
Life sciences service from EMEA
In addition to the new facility, DHL Global Forwarding is planning a new Life Sciences and Healthcare Freighter service from EMEA and Indianapolis.
The new freighter tailors an "end-to-end" service from the time a shipment is accepted at the customer's warehouse to the destination hub with inland-haulage to the Indianapolis facility for storage and final distribution.
"The new freighter will be implemented due to customer demand and need and will provide a new scalable solution to ensure perishable shipments are handled with the highest quality standards and delivered with fast transit times," DHL said in a statement.