EVA AIR REPORTS 96.3% CARGO REVENUE GROWTH
September 11, 2020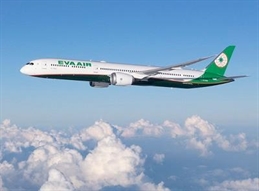 EVA Air recorded solid cargo performance in August, helping offset a decline in passenger business amid the ongoing coronavirus pandemic.
The Taiwanese flag carrier said its total cargo revenue jumped 96.3% to TWD4.275 billion, while its passenger revenue dropped 90.7% to TWD 904.9 million in August.
EVA Air's cargo yield also expanded by 66% to TWD11.61 a 137% year-on-year jump in cargo services income to TWD14.34 billion in the second quarter, benefitting from strong demand for the delivery of high-tech devices and personal protective equipment in the three month period.
For the first half of the year, the carrier saw its revenue from cargo services climbed 70.7% to TWD20.72 billion.
Following the good performance of its cargo business, the Taiwanese airline has announced it is swapping some of its plane orders from Boeing to include smaller planes and freighters instead of just 787-10 Dreamliners as it initially ordered.
Reports mentioned that EVA Air adjusted an existing order for seven Boeing 787-10 Dreamliners to three Boeing 777 freighters and four Boeing 787-9 Dreamliners.