AIRLINES UK CALLS FOR "IMMEDIATE ACTION" TO SUPPORT UK AVIATION
September 14, 2020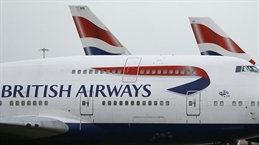 Airlines UK, the association of UK airlines and other carriers with a UK operation, recently called on Prime Minister Boris Johnson to take immediate action to support the UK aviation sector.
In a letter dated September 10, the airline group with 13 members, said the industry is "in crisis."
Airlines UK welcomed the recently-announced "islands" policy with respect to travel quarantine, "which may support the reopening of some international markets," but it reiterated that this is  "by no means enough" to support the sector through what it described as "the most challenging winter season we have ever faced."
"In July this year, we wrote to you as leaders in UK aviation to urge you to take immediate action to support the future of our industry over the summer season, including with the development of Covid-19 testing and targeted regional travel corridors," the airlines' group wrote. 
"Our industry is in crisis. This year we expect to carry passenger numbers not seen since the 1990s, a simply unsustainable situation. A recovery to 2019 levels is not expected for at least four years and as a result ... now is the time for action." 
Airlines UK urged Prime Minister Johnson to announce and implement a
policy on testing before the end of this month, and an expansion of regional travel corridors to mainland areas. 
They also suggested the following measures be implemented:
 and suggested the following measures be implemented:
Air passenger duty waiver for 12 month

s to protect regional connectivity;
Extend the Job Retention or Skills Retention scheme for aviation and key industries which continue to be impacted by coronavirus restrictions;
Immediate coronavirus PCR testing both on arrival and at day five;
A greater list of regional travel corridors beyond the 'islands' policy.
"We know this winter is going to be the toughest on record for the UK economy, and particularly the aviation sector. We, therefore, believe a meaningful package of economic measures to support the industry and save jobs is also required,"  the airlines' group added.
Those who signed the letter include British Airways, Wizz Air UK, Ryanair, Jet2.com, Titan Airways, 2Excel, Tui, Loganair, Jota Aviation, EasyJet, AirTanker, Virgin Atlantic, CargoLogicAir and Eastern Airways.