K+N ADDS BRUSSELS, JOHANNESBURG PHARMA HUBS AS PART OF ITS GLOBAL VACCINE DISTRIBUTION NETWORK
September 15, 2020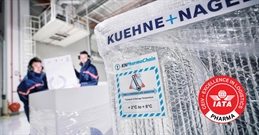 Kuehne+Nagel (K+N) has opened two new pharma hubs in Brussels (Belgium) and Johannesburg (South Africa) as part of its pharma & healthcare network ahead of the release of the much-anticipated coronavirus vaccine.
Both facilities are GxP-certified and have dedicated areas for temperature-sensitive products to be stored at different ranges: below -20°C; 2°C to 8°C; and 15° to 25°C.
The facilities are also able to add dry ice, if required, for shipments where temperatures need to be maintained below -60°C.
"With the opening of airside pharma & healthcare hubs in Brussels and Johannesburg, Kuehne+Nagel adds two strategic elements to its global GxP-certified network of temperature-controlled facilities for the distribution of vaccines and other pharma & healthcare products," K+N said in a statement.
"As many of the temperature-sensitive products have very low to no stability outside of their stated temperature ranges, direct tarmac access at Kuehne+Nagel airside facilities even further minimises the risk of temperature excursions and ensures product integrity during the logistics journey," it added.
The Brussels hub has 15,546 sq meters of storage space and has connections to the recently extended Geel Contract Logistics pharma warehousing facility, as well as the pan-European K+N PharmaChain road logistics network.
Meanwhile, the facility in Johannesburg was built to accommodate both lower deck and main deck pallet sizes and has temperature-controlled KN PharmaChain dollies available to maintain products' temperature during transfer from the plane to the warehouse.
"Today, new pharma & healthcare products tend to be more valuable, more temperature-sensitive and have additional requirements for storage and transportation conditions. Such capabilities and facilities are not easily available globally," said Yngve Ruud, member of the management board of K+N responsible for Air Logistics.
"The new hubs in Brussels and Johannesburg will ensure that our pharma & healthcare customers can fully rely on Kuehne+Nagel to handle the specific challenges of integrity as well as provide end-to-end visibility and regulatory compliance along the logistics journey of their sensitive products," he added.
K+N currently has over 230 GxP-certified operations worldwide – included in the pharma & healthcare network are additional hubs offering solutions for temperature-controlled needs; they are located in the US, the UK, Denmark, Spain, Luxembourg, Italy, France, Singapore, India, Panama, the UAE and Australia.