CATHAY'S PERFORMANCE REMAINS UNDER PRESSURE; AIRLINE TO PARK 40% OF FLEET
September 16, 2020
The Cathay Pacific Group released its combined traffic figures for August, showing the airlines' continued substantial capacity reductions in response to significantly reduced demand as well as travel restrictions and quarantine requirements in place in Hong Kong and other markets amid the ongoing global COVID-19 pandemic.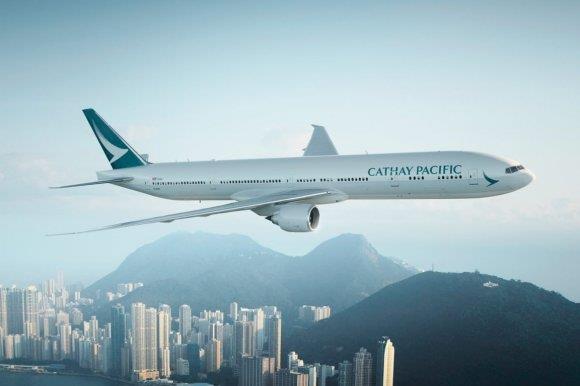 Cathay Pacific and Cathay Dragon carried a total of 35,773 passengers last month, a decrease of 98.8% compared to August 2019. In the first eight months of 2020, the number of passengers carried dropped by 81.7% compared to the same period for 2019.
The two airlines carried 102,122 tonnes of cargo and mail last month, a decrease of 36.7% compared to August 2019. The month's revenue freight tonne-kilometres (RFTKs) fell 30.3% year-on-year.
The cargo and mail load factor increased by 14.2 percentage points to 75%, while capacity, measured in available freight tonne kilometres (AFTKs), was down by 43.5%.
In the first eight months of 2020, the tonnage fell by 33.5% against a 34.4% drop in capacity and a 26.5% decrease in RFTKs, as compared to the same period for 2019.
Long road to recovery
"It is clear that we are facing a long and uncertain road to recovery. The entire aviation industry has been hit hard by COVID-19 and the environment will continue to be extremely challenging for many years," said Cathay Pacific Group chief customer and commercial Officer Ronald Lam.
He noted that the International Air Transport Association (IATA), itself has pushed back its forecast for passenger recovery by a year to 2024, demonstrating just how slow a return to pre-pandemic levels will be.
"We are weathering the storm for now, but the fact remains that we simply will not survive unless we adapt our airlines for the new travel market. A restructuring will therefore be inevitable to protect the company," he added.
Lam further said that the Group continues to move forward with its comprehensive review of all aspects of its operations and will make recommendations to the board in the fourth quarter "on the size and shape of the company to allow us to survive and thrive in this new environment."
Cargo performance
"Cargo remains the stronger performer in our business and we saw similar overall cargo tonnage and load factors in August as we did in July. There were greater movements of pharmaceutical products and live animal shipments across the network, while our time-sensitive product – Priority LIFT – was also in good demand," Lam said. 
He noted that Cathay Pacific continued to introduce additional cargo capacity were possible like two Boeing 777-300ER aircraft introduced in July with some of their passenger seats removed to accommodate cargo which has been well-received and have been predominantly used for long-haul shipments.
Overall, Cathay Pacific Group operated 436 pairs of cargo-only passenger flights in August – a similar number to July – of which 23 had cargo loaded into the cabins.
Outlook
"Looking ahead, we are cautiously optimistic of a reasonably promising cargo peak season, having received strong pre-orders that will serve the capacity needs of our customers.  Beyond the traditional peak season, however, prospects are very unclear," Lam said.

He cited regional geopolitical tensions and the ongoing China-US trade dispute which could have a significant adverse effect on airfreight demand, as he noted that "the situation has the potential to deteriorate rapidly."
Travel bubble with 11 countries
Meanwhile, the Cathay Pacific executive said the Group welcomes and is encouraged by the HK government's efforts to engage in discussions with 11 countries on the establishment of travel bubbles.
"Given that we will be operating just a fraction of our services in the foreseeable future, we will continue to transfer some of our passenger fleet – approximately 40% – to locations outside of Hong Kong in keeping with prudent operational and asset management considerations," he added.