TURKISH CARGO INCREASES MARKET SHARE IN H1
September 24, 2020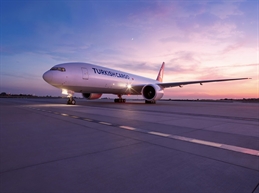 Turkish Cargo increased its global market share in the first half of the year due to its "special cargo missions" it operated during the period.
Turkish said it carried 1 of each 20 air cargo carried around the world boosting its market share to 5.4% from 3.9% or a growth of 67% within the first six months of 2020.
The special cargo operations were maintained by building up a global air bridge, the carrier said.
"In addition to its wide flight network encompassing the globe, Turkish Cargo, being a notable logistics solution partner for the special cargo shipments by continuing its operations uninterruptedly, in particular from/to London, Dubai, Amsterdam and Maastricht, achieves to transport all special cargo shipments, in particular, the pharmaceuticals, medical equipment, dangerous goods and valuable cargo," it added.
Turkish Cargo carried 30 thousand tons of medicines and nearly 10 thousand tons of medical equipment between 1 February and 31 August 2020.
It is the first air cargo to hold the "CEIV Pharma", "CEIV Fesh" and"CEIV Live Animal", issued by the International Air Transport Association (IATA).
Vaccine delivery capability
"Turkish Cargo ensures protection at high standards at its special cargo storage rooms with various temperature ranges available at its facilities with a total area of 3.500 m2 at the Istanbul and the Ataturk airports," it said.
Meanwhile, Turkish Cargo noted that it possesses "all of the capabilities as required for transporting the vaccine," which will be developed against the global pandemic.
"All around the world, Turkish Cargo minimizes the risk for the health-care products with a high level of sensitivity by making use of the active temperature-controlled Envirotainer and CSafe containers, the electrical air-conditioning container Opticooler, Thermal Dolly and disposal thermal sheets equipped with thermal isolation features," it said.