CAINIAO PARTNERS WITH BEST INC. FOR MALAYSIA-CHINA CROSS-BORDER E-COMMERCE LOGISTICS
September 24, 2020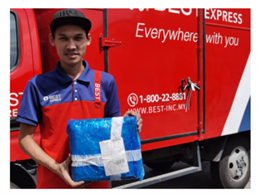 Cainiao Smart Logistics Network, the logistics arm of Alibaba Group Holding Limited, announced a partnership with BEST Inc. ("BEST"), an integrated smart supply chain solutions and logistics services provider from China, to launch an end-to-end logistics service between Malaysia and China.
This is aimed to shorten the delivery time for cross-border e-commerce parcels and improve overall customer experience.
Cainiao said in a statement that this partnership will reduce cross-border sea freight shipping duration to as fast as six days after departing China, and thereafter customers can receive their parcels as soon as the next day upon clearing customs in Malaysia.
It added that the cross-border logistics service will span first and last mile, sea freight forwarding, overseas warehousing and customs clearance, which means that e-commerce parcels will be picked up from China for international shipping to Malaysia where they will be delivered directly to customers.
"Cainiao will be leveraging its technological capabilities to improve delivery efficiency and transparency. Each parcel will be tagged with an electronic shipping label to facilitate the ease of real-time tracking from the point of overseas dispatch to final local delivery," Cainiao said.
It noted that in the near future, merchants in Malaysia will benefit from a seamless end-to-end logistics service that will facilitate their overseas expansion to reach a bigger Chinese market.
This is in line with the Malaysian government's National e-Commerce Strategic Roadmap1 that is aiming to future-proof businesses by supporting their globalization efforts.
Southeast Asia strategy
"The establishment of a direct Malaysia-China e-Commerce logistics service is continued affirmation of our investment into the region. Following the launch of Alibaba's first overseas electronic World Trade Program (eWTP) hub2 in Kuala Lumpur in 2017, this initiative will go towards supporting SMEs that are looking to engage in cross-border trade," said James Zhao, general manager, Cainiao Network.
Johnny Chou, chairman and CEO, BEST Inc. noted that Southeast Asia has been a key focus area of BEST's global strategy.
"Through investment in automation, information technology and logistics networks, we have developed express delivery networks in five markets in the region, providing customers with speedy, reliable, and cost-efficient services, while facilitating the growth of local SMEs and cross-border e-commerce," he said.
With increased technology adoption and internet penetration, the Malaysian e-commerce sector is predicted to grow by about 30% in 2024 .
Cainiao said this growth has been accelerated by the pandemic and subsequent enforcement of Movement Control Order (MCO) in March which increased consumers' adoption of online shopping and the growth of adjacent e-commerce logistics services.
BEST's logistics network in Malaysia comprises over 100 last-mile service stations, with plans to operate 270 stations and seven sortation centers in the next three years.
This includes the plan to establish a flagship smart sortation hub in Kuala Lumpur to leverage cutting-edge technology to facilitate high-speed automatic sorting and scanning, it added.
In the first half of 2020, BEST delivered a total of 25 million parcels in Southeast Asia.