BOEING REVISES 10 YEAR AIRCRAFT DEMAND FORECAST DOWN BY 11%
October 7, 2020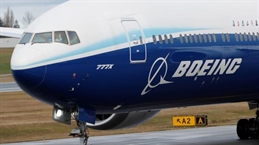 Boeing released its 2020 Market Outlook for the commercial and defence aerospace market, announcing a significant downward revision reflecting the impact of the COVID-19 pandemic and its view of near, medium and long term market dynamics for aircraft demand. 
The American planemaker now expects the commercial aviation and services markets to continue to face significant challenges due to the pandemic.
The outlook forecasts a total market value of US$8.5 trillion over the next decade including demand for aerospace products and services, down from US$8.7 trillion in the previous outlook.
Boeing projects demand for 18,350 commercial aircraft in the next decade valued at US$2.9 trillion, representing an 11% reduction in the demand outlook.
In the long term, however, it said that airlines are forecast to return to growth, generating demand for more than 43,000 new aircraft over the next 20 years and for the 20 year period passenger traffic growth is projected to increase by an average of 4% per annum.
The global commercial fleet is expected to reach 48,400 by 2039, up from 25,900 aircraft today.
Meanwhile, Boeing expects Asia to continue to expand its share of the world's fleet, accounting for nearly 40% of the fleet compared to about 30% today.
It said narrowbody aircraft will continue to be the largest market segment, with operators projected to need 32,270 new aircraft in the next 20 years, although narrowbody demand is expected to recover sooner due to its key role in short-haul routes and domestic markets as well as passenger preference for point-to-point service.
Widebody aircraft demand, meanwhile, is forecast to reach 7,480 new passenger aircraft by 2039.
Air cargo: a bright spot for aviation
"Widebody demand will be affected by a slower recovery in long haul markets – typical after air-travel shocks – as well as uncertainties from COVID-19's impact on international travel," Boeing said.
Air cargo demand, a relative bright spot in 2020, is expected to grow 4% per annum, and the planemaker said this segment would generate further demand for 930 new widebody production freighters and 1,500 converted freighters over the forecast period.
Meanwhile, Boeing said the market for commercial services is valued at US$1.6 trillion, and US$1.4 trillion for government services.
Boeing noted that digital solutions are emerging as a critical enabler as customers focus on leaner operations to adjust to future market demand.